"Ultimate Sports Fan" As Voted Best By You....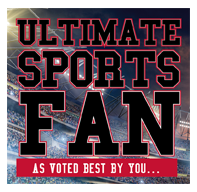 Are you the Ultimate Sports Fan?
Submit a photo showing why you are the ULTIMATE FAN in the Hupy and Abraham ULTIMATE SPORTS FAN CONTEST. Support for any sports teams or organization is allowed!
For any other questions or comments, email [email protected] with the subject line "Ultimate Sports Contest Question" to contact the firm directly. There are multiple ways you can enter this contest:
ULTIMATE FAN WINNERS
October: Ronni Nigro
November: Dougie Dommer
December: Erin Walbrun and her daughter Addison
January: Melissa Koch and her daughter Danika
February: Victor Weber
How To Win:
Include a caption as to why you are the ULTIMATE FAN when submitting your photo.
Share your photo entry with your friends and family so they know you have entered. Users can vote once per day, per photo.
Visit the Hupy and Abraham Facebook Page, click on the "Ultimate Sports Fan Contest" tab, select the "vote" option to view and vote for submitted entries.
Contest Rules:
ALL ENTRIES MUST BE SUBMITTED IN ONE OF THE THREE WAYS ABOVE. ANY OTHER ENTRIES SUBIMITTED IN A DIFFERENT METHOD WILL NOT BE ADDED TO THE CONTEST.
No purchase necessary.
Open to WI, IA and IL residents 18 years and older only.
ALL VOTES MUST BE MADE IN THE CONTEST GALLERY IN ORDER TO BE ELIGIBLE.
Submissions must include name and email.
Promotion will run October 1, 2016 - April 15, 2017.
Prizes must be claimed within 15 days of the announcement.
Don't forget to "like" the firm on Facebook, to keep up with any relevant updates or contest news!
Prizes:
The photo that receives the most votes at the end of each month will receive a Prize Pack.
Additionally, the photos receiving the most "Likes" from each month (October, November, December, January, February and March) will go on to a final poll in April 2017 to be eligible for the grand prize.
Contact Us For
Free, no-obligation consultation
Get Help Now +
It can be hard to find the information you need if you have been involved in an accident or have suffered a serious personal injury. Our Wisconsin, Illinois and Iowa attorneys can help you with your personal injury case and provide guidance during your time of need. Call today at 1-800-800-5678 for more information.