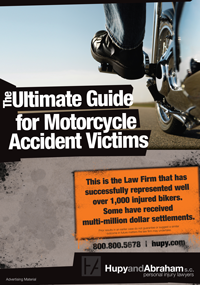 Hurt In a Milwaukee Area Motorcycle Wreck?
Then you need answers, and you need them NOW.
Injured riders need time and space to recover after a serious motorcycle wreck. The last thing they need to worry about is getting taken advantage of by the insurance company after a crash. That's why we wrote this FREE guide. Since we are riders ourselves, we know first-hand what it is like for Midwest motorcycle riders. Put that experience together with all the help we've given thousands of injured motorcycle riders over the years, and you can see why we feel so passionately about riders' rights.
If you want to maximize your chances of receiving a fair payout from the insurance company after a Wisconsin motorcycle wreck, you need this book. We'll tell you what you should and should not do after you are injured in a crash. Trust the legal team that has represented well over 3,000 riders, and even secured multi-million dollar settlements for some of them!
Order Your FREE Copy Today!
Please complete the form on this page to receive your FREE book.