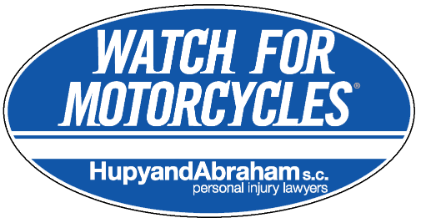 Hupy and Abraham is giving away free bumper stickers to promote motorcycle safety. Display it on your motorcycle, car or bicycle. It's a great way to remind drivers to watch for riders while on the road.
Simply fill out the online contact form to get your free sticker. Remember the name Hupy and Abraham—the motorcycle accident law firm in Wisconsin, Illinois and Iowa.
*Due to an overwhelming response, stickers will be mailed only to residents in Wisconsin, Illinois and Iowa. If you have a special need and reside outside of this service area, please send an email, detailing your request to: [email protected] Thank you!