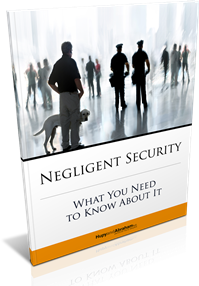 You were hurt in a violent attack, but was the attacker the only one responsible for your injuries?
Pursuant to Wisconsin, Illinois, and Iowa law, property owners are responsible for safety on their properties. If they don't provide adequate safety, then they may be considered negligent, and you may be hurt.
Whether you are attacked in a dark parking lot, a seldom-used bathroom, or a creepy stairwell, you may be able to recover if reasonable security measures were not in place to prevent your attack.
Get Your Questions Answered
An attack can leave you with a lot of questions. Our report, Negligent Security: What You Need to Know About It, has a lot of answers. Some of the questions we'll answer for you include:
What kind of property owners have the responsibility to provide security?
What is considered negligent security?
What should I do if I think negligent security contributed to my attack?
Under what circumstances can I bring a negligent security case?
Do I need a lawyer?
Why should I file a negligent security case?
What kind of damages can I recover from a property owner or his insurer?
What questions should I ask a lawyer during an initial consultation?

The report also contains other important information that could impact your recovery.
Get Your Free Copy Today—You Have Nothing to Lose!
You are under no obligation to take any further action if you request a free copy of Negligent Security: What You Need to Know About It. Instead, you can use the report to educate yourself about your legal rights and possible recovery and then you can decide what the next right step is for you. Please order your free report today to learn more.