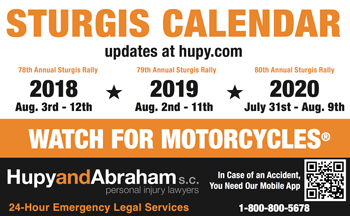 Hupy and Abraham offers a free Riders' Rights Card complete with Sturgis Calendar!
Tired of being targeted by police officers just because you ride a motorcycle?
Our free Riders' Rights Card will help you protect your rights while respectfully dealing with police officers.
The card contains a statement of rights and a Sturgis calendar that is good for the next three years.
Our Riders' Rights card is FREE to motorcyclists in Iowa, Illinois, and Wisconsin.
To get your card, fill out the contact form on this page, or call us at 800-800-5678.
*Due to an overwhelming response, cards will be mailed only to residents in Wisconsin, Illinois and Iowa.