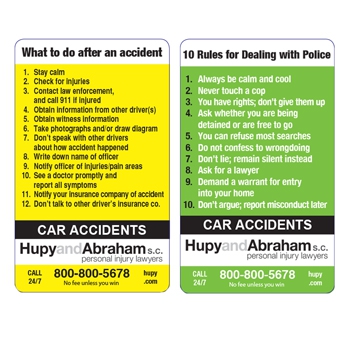 Do you know what to do after a car accident in Wisconsin, Illinois, or Iowa?
It can be hard to stay calm and focused after a car crash, especially if you are injured. So, our accident attorneys have created a FREE, easy-to-use wallet card with 10 steps to follow after an accident. Adhering to these steps will help protect your injury claim and get the insurance compensation you deserve.
We also include a "Rules for Dealing with Police" card. This card will help you protect your rights no matter who is at fault for your accident.
Fill out the contact form below to request your FREE green "What to Do After an Accident" card and your FREE yellow "Rules for Dealing With Police" card, or call Hupy and Abraham today at 800-800-5678.
*Due to an overwhelming response, cards will be mailed only to residents in Wisconsin, Illinois and Iowa.