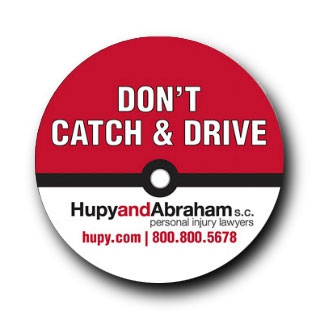 The location-based app "Pokemon Go" has been rapidly gaining popularity since its recent release. The game's call to action has users walking around in the real world catching Pokemon. Many hazards and safety concerns have appeared with these creatures.
That's why the law firm of Hupy and Abraham is distributing FREE "Don't Catch & Drive" bumper stickers. We want you to stay safe as you try to catch 'em all!
*Due to an overwhelming response, stickers will be mailed only to residents in Wisconsin, Illinois and Iowa. If you have a special need and reside outside of this service area, please send an email, detailing your request to: [email protected]. Thank you!