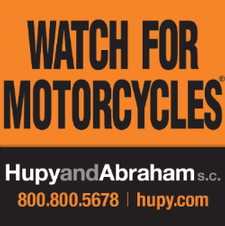 You can help our motorcycle accident attorneys raise awareness of motorcycle safety by displaying a "Watch for Motorcycles" window cling in your rear window. These are also a great way to show support for the motorcyclists in your life. The window clings are FREE to all residents of Wisconsin, Illinois and Iowa.
To get your free window cling, simply fill out the online contact form or call Hupy and Abraham today at 800-800-5678.
*Due to an overwhelming response, stickers will be mailed only to residents in Wisconsin, Illinois, and Iowa. If you have a special need and reside outside of this service area, please send an email, detailing your request to: [email protected]. Thank you!