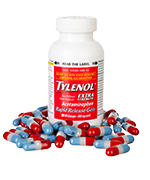 Millions of American women take Tylenol (acetaminophen) during pregnancy each year. It's long been thought to be a safe way for pregnant women to treat fevers, aches, and pain. However, recent research has linked acetaminophen use during pregnancy to autism in children. If your child developed autism due to their mother taking acetaminophen while pregnant, our attorneys can help you file a Tylenol autism lawsuit in Wisconsin, Iowa or Illinois.
Below, find answers to the most frequently asked questions we receive, including what compensation you may be able to recover in a Tylenol autism lawsuit.
Does Tylenol Cause Autism?
Several studies indicate that taking acetaminophen, or Tylenol, during pregnancy may increase the child's risk of developing autism. These studies include a:
2018 meta-analysis of seven studies published in the American Journal of Epidemiology. The study included more than 132,000 sets of mothers and children. According to the analysis, children who had significant exposure to acetaminophen during their mothers' pregnancies had a 20% higher risk of autism.
2019 study from Johns Hopkins Bloomberg School of Public Health. This study found that the babies with the highest levels of acetaminophen in their umbilical cord blood were about three times more likely to develop autism during their childhood as compared to babies with low levels of acetaminophen in their cord blood.
Additionally, multiple medical experts published a consensus statement in a 2021 edition of Nature Reviews Endocrinology. In that statement, experts warned that acetaminophen use during pregnancy could alter fetal development and significantly increase autism rates.
Can I File a Tylenol Autism Lawsuit?
You may be able to file a lawsuit if you used Tylenol or a generic form of acetaminophen during pregnancy and your child is diagnosed with autism. As with any lawsuit, you will need evidence to support your claim. Evidence may include, but is not limited to:
Doctors' notes suggesting you use acetaminophen or noting that you used acetaminophen during pregnancy
Receipts from acetaminophen purchases during pregnancy, if you have them
Your personal notes and testimony
Your child's health records
Is It Just Tylenol That's Linked to Autism?
Both Tylenol, made by Johnson & Johnson, and generic forms of Tylenol, known as acetaminophen, made by other manufacturers, are part of the Tylenol autism lawsuit. Specifically, acetaminophen sold by well-known national retailers such as Costco, Walmart, Target, CVS, Rite Aid, Safeway, and Walgreens is potentially linked to autism.
The plaintiffs claim that none of these retailers warned pregnant women about the link between acetaminophen products and autism. The Judicial Panel found that there are material questions of fact as to whether the retailers knew or should have known about the risk and whether they warned customers of the risk.
Is There a Tylenol Autism Mass Tort Lawsuit?
Yes. On October 5, 2022, a federal judicial panel consolidated 18 cases before a U.S. District Court Judge in Manhattan. At least 48 additional cases were added later that week, and many more are expected. The cases are part of Multidistrict Litigation (MDL) because they share common scientific and legal questions. Other plaintiffs may still join the MDL if their cases are substantially similar to the ones that have already been consolidated.
What Can I Recover in a Tylenol Autism Case?
Your family's compensation will depend on your unique expenses and costs. Your damages may include compensation for past and future:
Medical costs, including physical therapy, occupational therapy, and speech and language therapy
Lost income
Pain and suffering
Loss of enjoyment of life
Caregiver expenses
An experienced mass tort lawyer will value your case and let you know what to expect.
How Much Does It Cost to Hire a Lawyer for a Tylenol Autism Lawsuit?
Our Tylenol injury lawyers offer each of our clients a Win, or It's Free Guarantee. That means we are only paid if you recover money in a settlement or court. At that time, we will be paid a previously agreed-upon percentage of your recovery. You will not owe us any hourly fees.
Why Should I Choose Hupy and Abraham to Represent Me in a Tylenol Autism Lawsuit?
Hupy and Abraham, S.C. has been voted best and rated best, year after year. We have collected more than $1 billion for our clients. Our experienced drug injury lawyers are not afraid of tough cases against large pharmaceutical companies. We have the resources and the commitment to fight hard for each client we represent.
Contact Us
Choosing a lawyer is a big decision. We encourage you to learn more about us, read our testimonials, and contact us at 1-800-800-5678 to schedule a free, no-obligation consultation today. Let's discuss your case and how we may be able to help your family.
Schedule a FREE Legal Consult
Did taking Tylenol while you were pregnant result in your child developing autism? You may be entitled to compensation. Fill out the form below or call 1-800-800-5678 now and find out!