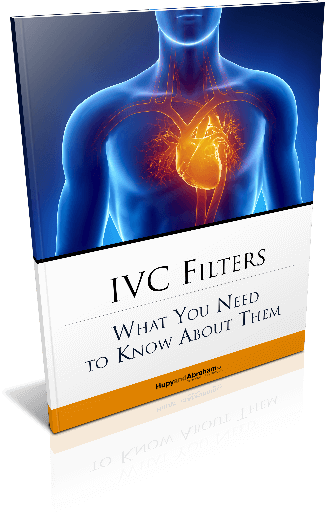 You needed to avoid a blood clot from reaching your lungs and you trusted that the IVC filter implanted in your body would do just that. At the time of your implant, however, you might not have known that the IVC filter could cause you to suffer serious injuries.
And Now You Have Questions
If you or a loved one have been hurt because of an IVC filter, then it is important to get answers to questions such as:
What injuries may be caused by an IVC filter?
What has the Federal Drug Administration (FDA) said about IVC filters?
Do you need an attorney if you've been hurt or a loved one has died because of an IVC filter injury?
What should you do if you've been hurt by an IVC filter?
This report will answer those questions for you.
Get Help Recovering the Compensation You Deserve
You deserve compensation if you have been hurt or a loved one has died from an IVC filter complication. Damages could include:
Medical expenses.
Lost wages.
Pain, suffering, and other non-economic damages.
In some cases, you may also be able to recover punitive damages.
But Cook Medical Inc. and C.R. Bard, the manufacturers of IVC filters, are going to fight back hard and try to pay you as little as possible for your claim. You deserve a fair recovery and that recovery starts with knowing your rights. You can get started right now by downloading your FREE copy of our report, IVC Filters: What You Need to Know About Them. Then, you can decide what to do next.