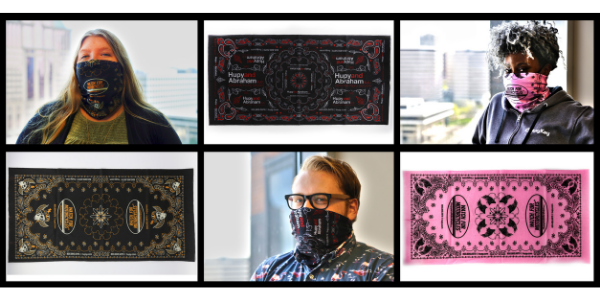 ENTER DRAWING: Hupy and Abraham Cloth Buff
Winners will be randomly chosen from the pool of entrants.

Easily protect your mouth and nose with the Hupy and Abraham Cloth Buff. This is especially useful for any outside errand or activity during COVID-19. Good luck from the Milwaukee personal injury lawyers at Hupy and Abraham, S.C.!
Please adhere to the current guidelines related to COVID-19, avoid touching your face, be safe and stay healthy.
---
Testimonials
Karen and I just received the "BUFFs" you sent us. They are really COOL. Not just figuratively speaking but, they actually allow you to stay cooler than the 3-ply paper masks we've been wearing,and believe me, that's a BIG PLUS, in this HEAT WAVE we've been experiencing here, lately. Also, they are easier to breathe through than the paper ones. And besides that, it looks great and fits perfectly, not too snug and my glasses don't fog up when I wear it! Thanx again for your "Consideration of Life" and giving us a chance to help show there are a lot of people out there who care about others. Take care and STAY SAFE!

Your long-distance friends in Washington state,
Art & Karen Fleming