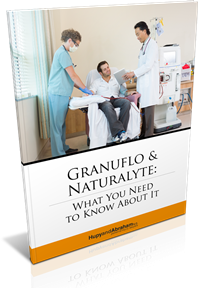 The kidneys play an important role in the human body—they filter out waste products and extra water in order to keep our blood clean and chemically balanced. Unfortunately, kidneys can begin to fail for any number of reasons. When this happens, a person will often undergo kidney dialysis. Dialysis takes over for the kidneys and will cleanse and purify an individual's blood. Done correctly with safe drugs, kidney dialysis can be truly life-changing for a patient.

There are, however, two drugs that are being held responsible for serious medical conditions that have arisen in people undergoing kidney dialysis—Granuflo and Naturalyte. Over 900 patients have suffered cardiac arrest while being treated with Granuflo and Naturalyte; other patients had strokes and some even died suddenly. The FDA issued a Class 1 Warning in March 2012, recalling Granuflo and Naturalyte...but the damage has already been done for many individuals and their families.

We have written a new report about these two formerly FDA approved drugs and encourage anyone who has had dialysis in the last 10 years—or know someone who has—to request a FREE copy of Granuflo and Naturalyte: What You Need to Know About it. Our report is short and easy to read, and it can potentially have a huge impact on your life. It covers important information like:
Which pharmaceutical company manufactured Granuflo and Naturalyte and what caused people to suffer life-threatening side effects.
The types of damages you could be entitled to if you or a loved one have been harmed by Granuflo or Naturalyte.
What you should do if you believe you are the victim of one of these defective kidney dialysis drugs.
Essential questions to ask attorneys before you hire one to represent you in your case.
If you suspect that you have been hurt by taking Granuflo or Naturalyte, this report is a must-read. Granuflo and Naturalyte: What You Need to Know About it is completely complimentary and available to individuals throughout Iowa, Wisconsin and Illinois. Request your free copy today by filling out the online contact form on this page, or by calling Hupy and Abraham, S.C. directly at 800-800-5678.