On average, over 1.6 million children go missing in America each year. In Wisconsin, on average, 700 to 800 children are reported missing each month by law enforcement. These children are either the victims of kidnapping, runaways from home, or abandoned by their parents.
Recognizing that protecting our children should be our community's first priority, Attorney Chad Kreblin at the Law Offices of Michael F. Hupy & Associates started the Hupy Identification Program in 2001. Since that time, the law office has fingerprinted over 5,500 Milwaukee area youths.
The Hupy Law Firm Child Identification Fingerprint America Program is a continuing effort by Michael F. Hupy & Associates to assist parents in maintaining updated identification records of their children. As part of the program, parents receive a free plastic covered identification packet, which includes contact information, child fingerprints, photograph of the child, a DNA sample and space for the child's dentist and physician to include dental and physical characteristics.
Recently, Attorney Kreblin fingerprinted over a thousand children at the Blessed Hope Assembly of God Church annual festival, a back-to-school health fair hosted by the Milwaukee Health Department, and an open house at Clair Mohammed School.
Annual Events that have featured the Michael F. Hupy & Associates Fingerprint America Program include National Night Out, Lisbon LandFare, Sam's Safety Days, Sherman Park Days, and other various church gatherings and block parties.
Through Attorney Kreblin's efforts an entire elementary school in Cudahy was fingerprinted in 2004.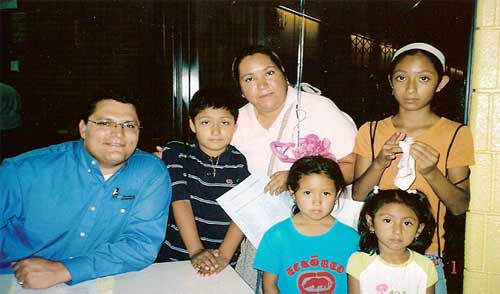 Attorney Chad Kreblin of Hupy & Abraham, and Veronica Zendajas
surrounded by her four children Nestor, Araceli, Patricia and Lupita

On August 18, 2006, at the Milwaukee Health Department's Covering Kids and Families 2006 Back-to-School Health Fair, the Hupy Law Firm fingerprinted its 6000th child since the inception of the Hupy Child Identification Fingerprint America Program in 2001. Attorney Chad Kreblin, the head of the Hupy Firm's fingerprinting campaign, single-handedly fingerprinted over 400 Milwaukee children at th event, which attracted nearly 2,000 people. The purpose of the event was to assist parents in providing proper health care to children entering school who may not have health insurance, to provide school supplies to children, and to educate parents about child safety. The Hupy Firm provided free fingerprinting as a part of the safety component of the event.