Rex Hupy, Wisconsin Supreme Court Justice Louis Butler, Suzanne Hupy, Attorney
Michael F. Hupy and Attorney Marcel D. Reneau at the Milwaukee Bar Association
150th Anniversary Luncheon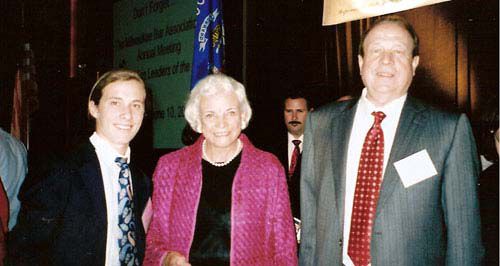 Rex Hupy, Former United States Supreme Court Justice Sandra Day O'Connor
and Attorney Michael F. Hupy at the Milwaukee Bar Association 150th Anniversary
Luncheon
On May 7, 2008, the Milwaukee legal and political community joined Hupy and Abraham in welcoming former U.S. Supreme Court Justice Sandra Day O'Connor to Milwaukee. The Hupy Firm was the presenting sponsor of the Milwaukee Bar Association's 150th Anniversary at the Midwest Airlines Center which featured a keynote speech by Justice O'Connor and comments by Wisconsin Chief Justice Shirley Abrahamson.

At the event, O'Connor gave a rousing speech about the importance of educating the public about political matters and the judiciary. She was introduced by current Wisconsin Supreme Court Chief Justice Shirley Abrahamson. The event was attended by over 700 lawyers, judges and politicians. In fact, during the ceremony, it was announced that all current Wisconsin Supreme Court Justices were in attendance.
Sandra Day O'Connor was appointed Supreme Court Justice by President Reagan in 1981. Justice O'Connor served on the court as its 102nd justice, and its first female member. She was ranked by Forbes Magazine as the sixth most powerful woman in the world in 2004. Since retiring from the court in 2005 she has devoted her time to the teaching of civic responsibility and awareness of Alzheimer's disease, a condition that has afflicted her husband.