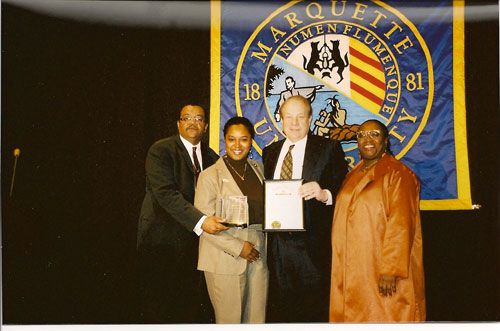 From left, CTE Board of Directors Vice President Douglas Kelley, Wisconsin State Senator Lena Taylor, Attorney Michael Hupy and CTE CEO ReDonna Rodgers
Posted December 22, 2008
December 4, 2008, marked the second time in the past five years that Attorney Michael Hupy was honored by Wisconsin Governor James Doyle for being a stalwart community leader and tireless example of doing well for others.
At the 17th Anniversary Harvest of Hope Celebration, Attorney Hupy was presented with a Certificate of Commendation signed by Governor Doyle thanking Attorney Hupy for his years of community leadership, advocacy for education and support of those organizations and programs that "make the community a better place to live." State Senator Lena Taylor presented Attorney Hupy with the Commendation, describing him as a "pillar of the community."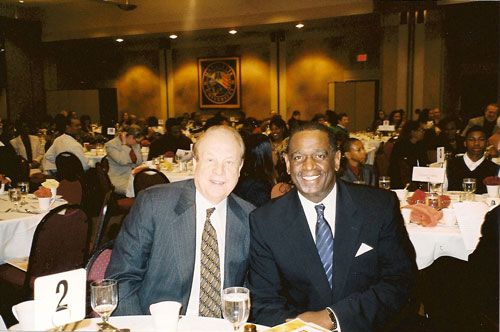 From left, Attorney Michael Hupy and Ulice Payne, Jr., who presented the key note address
Attorney Hupy was also presented with the Distinguished Honor Award by the Center for Teaching Entrepreneurship for his thirteen years of dedicated service on the CTE Board of Directors and notably as Board President. Attorney Hupy is recognized as a strong supporter of a brighter Milwaukee through youth involvement.
The Center for Teaching Entrepreneurship develops and implements programs for young people that teach business and entrepreneurial skills that translate directly to competitive opportunities in the marketplace. Through the hard work and dedication of Hupy and Abraham S.C., and other generous sponsors, CTE boasts an unparalleled track record of success including a 100% high school graduation rate with 80% of program participants attending higher education. In attendance at the Harvest of Hope Celebration were attorneys Michael Hupy, Chad Kreblin, Timothy Schelwat, Todd Korb and Evan Claditis.
Attorney Hupy was also recognized by Governor Doyle in 2004 – at a bill signing ceremony enacting legislation preventing insurance companies from reducing damages for injured motorcyclists not wearing helmets – at which time Attorney Hupy, who helped spearhead the helmet legislation, accepted from Governor Doyle a pen used to sign the bill.