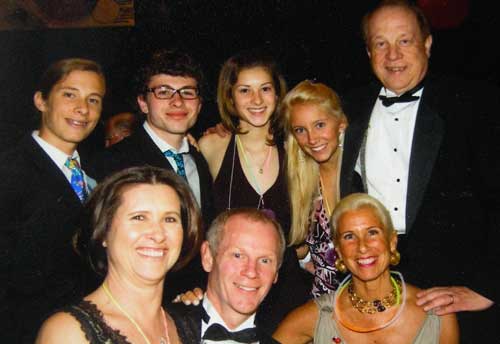 Hupy and Brandon Family participants – Back Row – Rex M. Hupy,
Jake Brandon, Samantha Brandon, Maxine Hupy, Michael F. Hupy.
Front Row – Heidi Brandon, Darrell Brandon and Suzanne Hupy
The Western Pennsylvania Chapter of the Juvenile Diabetes Research Foundation raised a record $1.3 million at its 15th Annual Gala on Saturday, April 21st. Attorney Michael F. Hupy, his wife and two children were among the eight hundred people who attended the event at the Hilton Hotel in downtown Pittsburgh. Mrs. Hupy's nephew, who lives in Pittsburgh, suffers from juvenile diabetes and the Hupy family has attended this event for the last several years.
They were among the eight hundred people who attended and contributed to the $1.3 million raised in one night.
Major sponsors include: GlaxcoSmithKlein, Equitable Resources, Highmark Blue Cross Blue Shield and Reed Smith, LLP.
While the adults enjoyed the event and bid on auction items, the Hupy children and their cousins sold raffle tickets and assisted with the program.
An interesting feature of the event raised $300,000.00. At the end of the live auction attendees were asked to raise their paddle if they wished to make a donation to JDRF. Donations started at $25,000.00 a person and were gradually reduced to less than a $1,000.00. This part of the program raised $300,000.00, which was also a record.