Posted 1/30/2007

Wisconsin Supreme Court Justice David Prosser, presidential candidate Tommy G. Thompson, Congressional Medal of Honor Recipient Gary Wetzel and riders from 12 states were among a sellout crowd of 180 who attended an appreciation banquet for Senator Dave Zien in Madison, Wisconsin, on Saturday, January 20th.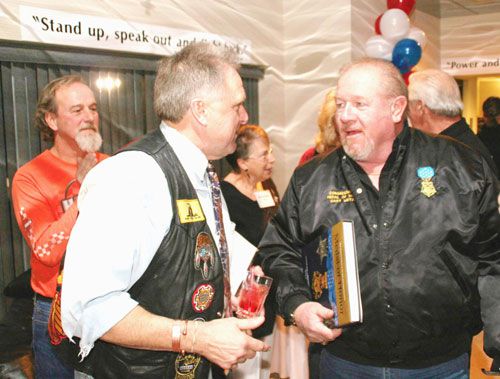 Vietnam Veteran and Congressional Medal of Honor Recipient Gary Wetzel,
attended the appreciation banquet for Dave Zien as a guest of Michael F. Hupy.
Wetzel presented Zien with a book on the history of the Medal of Honor.
Attorney Michael Hupy, of Hupy and Abraham opened the program by welcoming the many guests, introducing some special people in the audience, and turning the program over to his employee, founder of ABATE of Wisconsin, Tony "Pan" Sanfelipo, who organized the event and was the emcee.
ABATE of Wisconsin recognized Zien for authoring every piece of motorcycle legislation in the state since 1988, including confiscation remedies, angle parking issues and rider's rights and safety issues. Kirk "Hardtail" Willard, President of the Motorcycle Riders Foundation, was joined by MRF Vice President of Government Affairs, Jeff Hennie, in presenting Zien with a plaque on behalf of the positive legislative actions he promoted, the first time ever a state legislator was so honored. Previously, this award only went to federal legislators. AMA Vice President of Government Relations, Ed Moreland, presented Zien with a beautiful sculpture in recognition of his years of service promoting motorcycling as a way of life. There were accolades from NCOM, Idaho Bike Pac, ABATE of Michigan, A.B.A.T.E. of Illinois, Kishwaukee Chapter and the Iron Butt Association.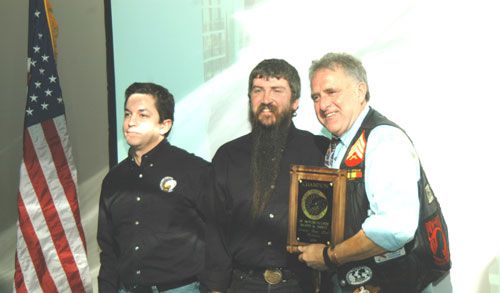 The Motorcycle Riders Foundation presented Dave Zien the "Champion of
Motorcyclists Rights and Safety" award. Zien was the first ever state legislator
to receive this award, usually reserved for federal legislators. From left to
right, Jeff Hennie, MRF Vice President of Government Relations, Kirk "Hardtail"
Willard, MRF President and Dave Zien.
Wayne Curtin and Steve Phillips of the Harley-Davidson Motor Company spoke of Zien's championing of Harley-Davidson's mystique, heritage and charisma. Curtin worked on legislative issues with Zien and Phillips is Vice President of Quality Reliability and Technical Support, something Zien has needed over the years on his 886,570 mile motorcycle. In fact, he's approaching the 1.96 million total miles mark. He's ridden 31,111 miles in 31 days, a record, and in 2003 logged 113, 800 miles. He's a rider, no doubt about that.
State legislators from Wisconsin who worked with Zien honored him and Rep. Jim Putnam traveled from South Dakota to speak about Zien on behalf of the Lawmakers MC, a group founded by Sen. Ben Nighthorse Campbell. Motorcycle club members from Wisconsin and New York attended this event in tribute to a man who himself was a club member before he was elected to the State Assembly.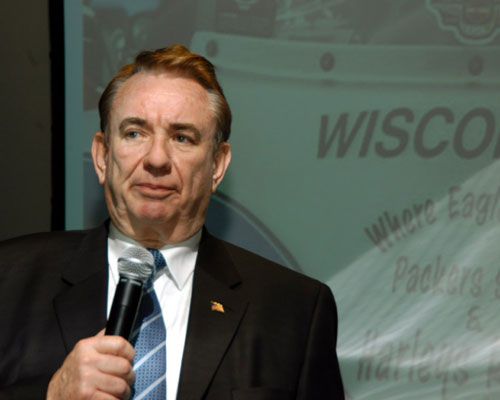 Former Governor of Wisconsin and Secretary of Health and Human Services
and presidential candidate, Tommy G. Thompson, speaks at the Zien
appreciation banquet.
There were some solemn moments in the program as it dealt with veteran's issues and the sacrifice's some have made for this country. Wisconsin Secretary of Veteran's Affairs, John Scocos, complimented Zien on his military service in Vietnam and his efforts to support veterans of all wars. Pam West, Director of the Museum Resource Center for the National Parks Service spoke about Zien's dedication and perseverance in arranging to exhibit a Vietnam era, chopper style motorcycle, at the Sturgis Motorcycle Museum during Bike Week.
This outpouring of support and gratitude speaks directly to the respect the motorcycle community has for Dave Zien. Wherever he goes from here, we know he will be successful and that motorcycling will somehow be involved. For now, stand down Marine, this mission is over. Best wishes for whatever the future holds and wherever your motorcycle takes you.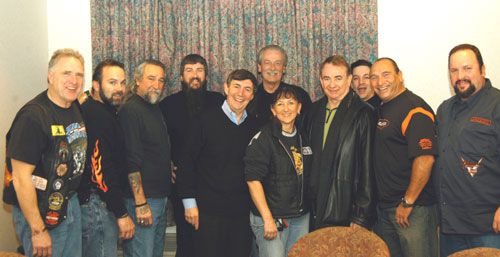 "Team Tommy" committee is formed the day after the Dave Zien Appreciation
Banquet, to assist Tommy Thompson in his bid for president. Left to right,
Dave Zien; Dave "Chubby" Charlebois, ABATE of Wisconsin Public Relations
Director; Tony "Pan" Sanfelipo, Founder, ABATE of Wisconsin; Kirk "Hardtail"
Willard, President, MRF; Jerry Weiner, Thompson friend; Lt. Rich Kuchenbecker,
East Troy Police Dept.; Vicki Sanfelipo, Founder, Accident Scene Management;
Tommy Thompson; Jeff Hennie, MRF Vice President, Government Relations;
New York Myke, owner, San Diego Harley-Davidson; Stormin' Joe Norman,
President, Low Riders MC, Staten Island, NY.