March 15, 2004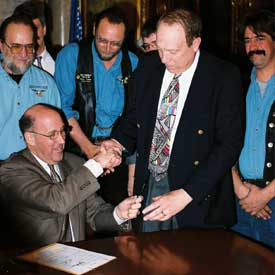 | | |
| --- | --- |
| GOVERNOR JIM DOYLE congratulates Attorney Michael F. Hupy and hands him a pen used to sign Wisconsin's new helmet bill. Also pictured standing left to right is Ken Pezewksi, Rick Traver and Matt Graettinger. Partly visible on the left are William Weigel and Kirk "Hardtail" Willard in the center. | |
| | |
| --- | --- |
| | TWELVE SUPPORTERS OF WISCONSIN'S NEW PRO-rider HELMET BILL left to right: Rep. Dan Vrakas, Mike, Attorney William Weigel, Matt Graettinger, Attorney Michael F. Hupy, Kirk "Hardtail" Willard, Attorney Joe Weigel, Dave Dwyer, Ed Williams, Ken Pezewski, Tony "Pan" Sanfelipo and Sen. Dave Zien. |

A year and a half ago, Attorney Michael F. Hupy read a Wisconsin Supreme Court case he did not agree with. Instead of following the dictates of the Court, he did something very unusual. He decided to go to Madison and overrule the Supreme Court's decision.

Hupy, along with members of ABATE of Wisconsin, Tony Sanfelipo, founder of ABATE of Wisconsin, and Attorney Joseph Weigel helped write a bill that would prevent insurance companies from reducing damages for injured riders when there is a claim that a helmet would have lessened the injuries.
Under the new law, evidence that a rider was not wearing a helmet cannot be used at trial and insurance companies cannot reduce damages owed injured riders by blaming them for their injuries because they were not wearing a helmet.

The bill was introduced by Wisconsin State Senator David Zien, who has been an avid rider for many years. Hupy and Sanfelipo testified for the bill in Zien's Senate Committee hearing, and later testified at a hearing before the Wisconsin Assembly. Both Hupy and Sanfelipo, as well as members of ABATE of Wisconsin and others lobbied for passage of the bill in the legislature.

While the bill was pending, the Milwaukee Journal Sentinel, after a lengthy interview with Hupy, changed its prior position on helmet laws and wrote an editorial favoring the bill.

After the Assembly passed the bill on March 2, 2004, Hupy contacted the Governor and urged him to sign the bill into law. The Governor's response was to invite Hupy to the signing in his office on March 15, 2004. Governor Jim Doyle publicly thanked Attorney Hupy for the work that he had done to get the bill to his desk and presented him with a pen used to sign the bill.

Failure to make this change in Wisconsin law would have had a devastating affect on injured riders. In an accident that was 100% the other driver's fault, a motorcyclist with a serious head injury could end up losing all of a multi-million-dollar verdict and walk away with nothing if the insurance company could successfully argue to a jury that wearing a helmet would have prevented all of the head injury. Hupy and Sanfelipo saw this as an attempt to judicially mandate a helmet law in Wisconsin despite the fact that the legislature repealed Wisconsin's helmet law twenty-five years ago.

In a live interview on rider Broadcasting on March 14, 2004, Hupy, who is a life member of ABATE of Wisconsin and a member of A.B.A.T.E. of Illinois, praised both organizations and others for the work that they have done to protect the interests of riders.

Michael Hupy also represents three members of the Outlaws Milwaukee Motorcycle Club in a lawsuit against Summerfest resulting from their being ejected after they refused to remove club insignias. He represents the Outlaws Milwaukee Motorcycle Club clubhouse in forfeiture proceedings that have been brought by the Federal government.