Posted 3/26/2007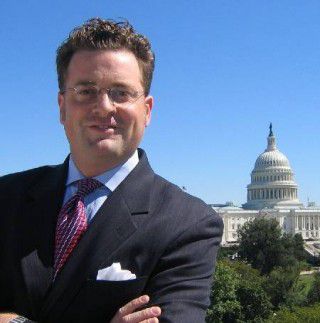 Ed Moreland, VP of Government Relations, AMA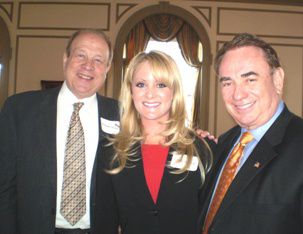 Lacie Shook, ASMI Board member, with Attorney Michael Hupy and former governor and presidential candidate, Tommy Thompson
Accident Scene Management has a new Board of Directors, according to program founder Vicki
Sanfelipo. This wonderful course teaches people what to do at the scene of a motorcycle accident. Known by its acronym, ASMI, the program is now in 24 states with nearly 80 instructors. Hupy and Abraham have supported the program from its inception in 1996, with financial aid and by supplying attorneys to lecture about insurance needs and terminology.
Vicki, a Registered Nurse at Waukesha Memorial Hospital, has worked in a variety of settings throughout her 23 year career, including critical care and the operating room. She is currently a Perioperative Educator for the Department of Surgery and is a licensed EMT in Wisconsin. In addition, she is a CPR Instructor for the American Heart Association. An avid rider for over 20 years, she is a life member of ABATE of Wisconsin, Charter Member of Central Wisconsin H.O.G, member of Kettle Moraine H.O.G., MRF, BOLT and the AMA.
In addition to Vicki, the new ASMI Board includes:
Suzanne Martens, MD

– Dr. Martens is Co-Director of Orange Cross Ambulance, is Board Certified in Emergency Medicine and practices at ST. Nicholas Hospital in Sheboygan, Wisconsin. She serves as co-chair of the SE Wisconsin Trauma Advisory Council and holds memberships in the American College of Emergency Physicians, American Medical Association, National Association of EMS Physicians and the Society for Academic Emergency Medicine.
Dr. Martens also is the Chair of the Sheboygan EMS Council & EMS Physician Advisory Committee.
Ed Moreland

– Vice President of Government Relations for the American Motorcyclist Association (AMA).
Ed represents nearly 300,000 members of the AMA, dealing with national and state issues regarding motorcyclists. Ed represents the AMA before the U.S. Congress, the Administration and the United Nations. He also is a member of the Federal Highway Administration's Motorcycle Advisory Committee. Ed earned a BA in political science from the University of Minnesota and has been an avid rider for over 20 years.
Robert (Bob) Ritter

– Motorcycle Safety Program Director, NIU
Bob has 50 years experience riding a motorcycle and spent 10 years with the Baltimore Fire Department and Ambulance Service. He worked with ABATE of Maryland and AMA District 7 as their Legislative Representative, forming a lobbying coalition of motorcycle organizations. In 1983, he began teaching riding courses for the Maryland Motorcycle Safety Program as an MSF Instructor, later becoming a Training Specialist and in 1986 he received his MSF Chief Instructor Certification at Illinois State University in Normal, Illinois. After 13 years with the Maryland program, Bob became the Director of the Northern Illinois University Motorcycle Safety Project in DeKalb, Illinois, where he is currently employed. Bob belongs to the State Motorcycle Safety Administrators (SMSA) and has 7 years experience as an American Red Cross instructor, teaching CPR, AED and Advanced First Aid.
Lacie Shook

– Attorney, Schmidlkofer & Toth, LLC
Lacie focuses her practice on business law and civil litigation. She graduated from Western Illinois University in 2003 with a bachelor's degree in business finance. She worked as a law clerk for Hupy & Abraham and attended many motorcycle events and functions with the motorcycle staff there. She received a Juris Doctorate and MBA from Marquette University in 2006. Besides ASMI, Lacie serves on the Board of Directors for a number of corporations in the Milwaukee area.
Britt Bellinger

– Attorney, Milwaukee Bar Association
Britt focuses on non-profit business management and communications. She is a Lawyer Referral and Information Service Director, and Small Firm & Technology Conference Director as well as Teenage Alcohol Prevention Program Director. She has Graduate Certificate for Non-profit Management from UWM, Milwaukee, and a B.A. in Mass Communications-Broadcast Journalism and Communications. Besides ASMI, Britt serves on the Wild Space Dance Company Board of Directors, Center for Teaching Entrepreneurship and Coalition for Access to Legal Resources-Marketing Committee, Task Force on Family Violence-Events Committee and the Bay View Community Center.
These exceptional individuals will help guide ASMI into the future with the life saving program written and developed by Vicki Sanfelipo.