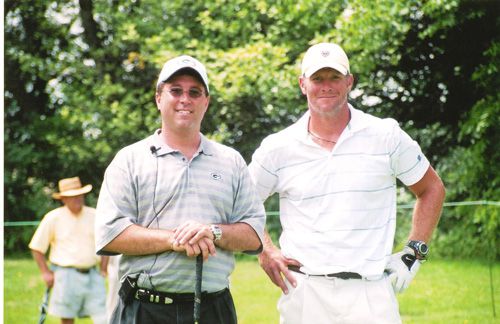 July 12, 2005, started off like every other workday. I got up before 6:00 a.m. with the intention of being to work shortly after 7:00 a.m. For some unknown reason, I decided to turn on the television as I was getting ready to leave for work. At that exact moment, the head of the U.S. Bank Golf Championship, held annually in Milwaukee, Wisconsin, was on the news stating that someone would have a once in a lifetime opportunity to be Brett Favre's caddie for the day.
As I drove to work, I continued to think about what an amazing opportunity it would be to meet a future Hall of Fame quarterback who seems to be just like a "regular guy." I kept thinking of this opportunity throughout the day and finally decided to go to the U.S. Bank Championship website to get more of the details. When I arrived at the website, it stated that they would take bids for this opportunity by e-mail only and the auction would end on July 14, 2005, at 7:00 p.m. The bidding began at $1,500.00. While at the website, I learned that, the previous year, the championship had donated approximately $600,000.00 to charities after the event. When I reviewed the list of approximately 30 charities, I noticed that these local charities were some to which my firm had not donated in the past. As a result, I decided to give it a shot and try to be Brett Favre's caddy.
Starting at around 6:30 p.m., with bidding for this opportunity set to close at 7:00 p.m. on July 14th, I sat by my computer hoping I would be the lucky one. At approximately 6:59 and 55 seconds the high bid was $3,100.00. In an instant, I pressed the enter key on my computer to give a bid to charity in the amount of $3,600.00 to be Brett Favre's caddy. At 7:02, I received the call with the news that many Wisconsin residents would love to hear: I was going to be Brett Favre's caddy the following Monday.
As you can imagine, I was like a 5-year-old child in a candy store, excited from head to toe. All weekend long, I started thinking about what I would say? How would he respond to me? What I should and shouldn't ask about? By the end of the weekend, I realized that the most important thing I could do was be respectful and honor his privacy.
On July 18, 2005 at 9:00 a.m., I arrived at Brown Deer Golf Course in Milwaukee, as nervous as though it was my first day of high school. I was in the parking lot waiting when Brett Favre arrived in his limousine after being flown in for the event on a private plane. With him were his agent and his brother, Scott. I was immediately introduced to #4 as his caddy. I asked him how he would like to be addressed, and he said "Brett, of course." He then asked me if I was a professional caddy, to which I respond "No, I am just a diehard fan who paid $3,600.00 to charity to carry your bag." With that, we both chuckled and started our 5-hour day filled with memories that will last me a lifetime.
Throughout the day, I learned that, although Brett Favre would probably be recognized on almost any street in the United States, he is just a regular guy. He indicated to me that there were no topics off limits, and we talked about everything from family to football. We discussed past and current coaches and players; Super Bowls that were won and lost; and his desire to finish on top. The media hung on his every word and every swing. Throughout the whole day, he made me feel comfortable, we shared laughs and even a hamburger. The experience far exceeded my expectations, and I will cherish the memories throughout my lifetime. It was an honor to given $3,600.00 to local charities in order to spend 5 hours with a legend and gentleman.