The rumor mill is working overtime and die-hard Harley fans are getting nervous. Will Harley-Davidson move operations out of Wisconsin?
Headquartered in Milwaukee at the site of the original Motor Company shed near 36th and Juneau Ave, the company has been struggling to reduce production costs and increase profits. Sales dropped 18.2 percent in the first quarter of 2010, compared to 2009, the year the company suffered a $55.1 million net loss. It's obvious it cannot continue along those lines, but what will it take to turn the corner and remain in Wisconsin?
According to Keith Wandell, Harley's CEO, reducing production costs is a key component to staying in Wisconsin. Closing the Wauwatosa plant and the Franklin distribution center is part of that strategy. But the company is looking to win concessions from the unions representing 1,450 employees in the state, similar to what it achieved in York, Pennsylvania.
Workers and outside observers are critical of Harley's predicament, saying union wages are not the heart of the problem. They claim mismanagement and the tax climate in Wisconsin are the real reasons Harley is in trouble. Instead of investing and letting Buell develop a new motor for that brand, Harley closed the doors just as Buell was winning more races and starting to appeal to the much sought after younger rider demographic. Also, the purchase of the costly MC Augusta brand in Italy seems to be a huge blunder. It's turning out to be an albatross that Harley wants to sell, but no buyers are in sight.
When one considers the salaries of top management at Harley, with no mention of concessions there, its no wonder the workers are upset that they are looked at as a solution to cost cutting. Wandell, for instance, came from Johnson Controls Inc., and received a pay package, signing bonus and stock options worth millions. And we mentioned the tax climate in Wisconsin as contributing to the "Rust Belt" problem. Under Governor Jim Doyle's "combined reporting" tax scheme, Harley had to include earnings from the Kansas and York facilities in its tax filing, which amounted to a tax burden of over $22 million.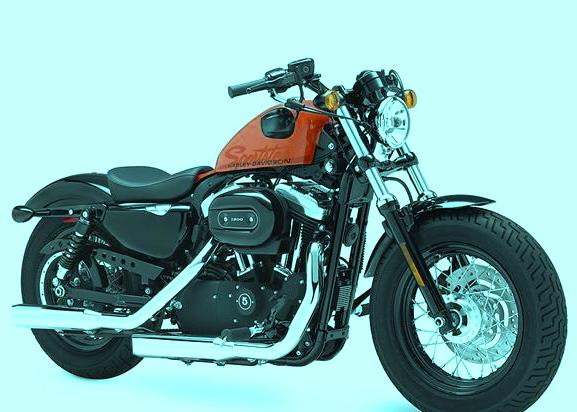 2010 Sportster Forty-Eight


There has to be some solution to Harley's dilemma, and it includes some concessions from top to bottom, better management, tax incentives instead of penalties and development of an affordable bike that will be attractive to new and younger riders. They've made some great strides in that respect with the retro looking 883 Sportster models, most notably the Forty Eight. Harley has also increased its vision of being a lifestyle company by increasing its line of rider clothes, furniture and expanding the venue at the Harley-Davidson Museum. Thursday Bike Nights are growing in popularity and the exhibits at the museum are extraordinary.
We hope Harley can pull it together and remain in Wisconsin, with Milwaukee the center of the universe for the brand. Forsaking that heritage and the blue collar, dirt under the fingernails customers who made Harley a lifestyle would be a grave mistake in our opinion.