Do You Know The Biggest Sports Fan Under Ten? Submit Their Photos To The Hupy and Abraham, S.C. Biggest Little Fan Photo Contest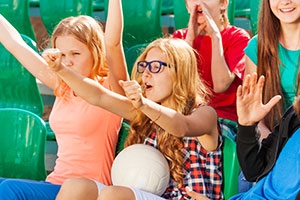 From January through April 2018, submit photos of your "Biggest Little Fan" for an opportunity to show not only their team loyalty, but for a chance to win an amazing Grand Prize.
Each month the photo with the most votes will receive a super fan prize pack including sports apparel and other cool items. Pictures of the finalists will appear on our Facebook gallery and will compete against each other in May for the most "likes." The winner will be awarded the Biggest Little Fan Grand Prize.
Let's have some fun with the contest and give your Biggest Little Fan the chance to experience the equivalent of scoring a hat-trick, throwing the game-winning touchdown or hitting that walk-off grand slam!
Biggest Little Fan Contest Winners
January: Neliah M.
February: Kylie S.
March: Addison W.
April: Micah S.
How To Enter
Email your photo to [email protected]
Visit the Hupy and Abraham Facebook page, click on the contest tab to upload and submit your photo.
Or submit the form below
How To Vote
Visit the Hupy and Abraham Facebook page and click on the contest tab to view the voting gallery.
Click on "Vote" on the form above.
That's all there is to it! Don't forget to include the age of your Biggest Little Fan as well as a caption!
*Entrants must live in WI, IL or IA
Contact Us For
Free, no-obligation consultation
Get Help Now +
It can be hard to find the information you need if you have been involved in an accident or have suffered a serious personal injury. Our Wisconsin, Illinois and Iowa attorneys can help you with your personal injury case and provide guidance during your time of need. Call today at 1-800-800-5678 for more information.