Personal Injury Attorneys Serving Woodstock, Illinois
Woodstock, Illinois
Call 24/7/365 - We'll Come to You!
Toll Free: 1-800-800-5678
Open Always - Chat Live With Us Now!
Walk-In Hours:
The Wisconsin, Illinois, and Iowa personal injury attorneys of Hupy and Abraham know what you're dealing with after being involved in an accident. Whether you've been hurt in a Milwaukee car crash or Illinois motorcycle accident, you are facing some serious challenges and we're here to help.
Art, architecture, and agriculture are three things that make Woodstock, Illinois, a special place to live or to visit. Music and art are valued in the City of Woodstock. People come to the famous Opera House, to the historic Woodstock Square, to view the Victorian architecture, to visit the state's largest concentration of apple orchards and berry farms, or to attend one of the city's many events, festivals, or fairs.
More than 25,000 people and 380 businesses call Woodstock home, and the area attracts many more visitors each year.
What to Do If Your Hurt in Woodstock
There is so much to enjoy in Woodstock and every day may seem like an adventure. However, whether you are visiting for the day, living in the city, or establishing a business here, there are risks. For example, you may be hurt in a bike crash, car wreck, pedestrian accident, or other type of personal injury accident.
If this happens to you then it is important to take action as soon as possible. Our Rockford personal injury lawyers can investigate what happened in your Woodstock accident. If someone else caused your injuries then we can advise you of your rights and represent your legal interests, if you so choose.
We go above and beyond the call and duty for each client whom we represent. To us, you are an individual whose life has been changed by someone else's negligence and you deserve to make a fair and just recovery of damages. We will fight for your recovery of medical expenses, lost income, out-of-pocket costs, pain, suffering, and other damages. To learn more, we encourage you to contact us today for a free consultation at our Rockford office.
Rockford Office Directions
Woodstock Driving Directions
Heading south on N Throop St/US 14 Business Route toward W Jackson St.
Turning right at the first cross street onto W Jackson St.
Continuing onto Kishwaukee Valley Rd.
Keeping right to stay on Kishwaukee Valley Rd.
Continuing onto Woodstock Rd.
Turning left onto Russellville Rd.
Turning right onto Squaw Prairie Rd.
Continuing onto Rote Rd.
You will arrive at our office: 6952 Rote Rd #200, Rockford, Illinois.
Testimonials by Hupy and Abraham Clients
Hupy & Abraham, S. C. are very hardworking. They care about their clients and are honest. I would refer them to everyone I know.
Written by: Laura Lopez
about Hupy and Abraham
Date published: 07/4/2015
5 / 5 stars
Overall rating: ★★★★★ based on 1 reviews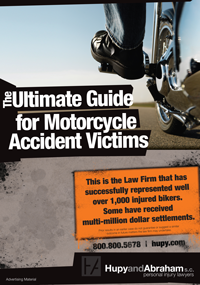 The Ultimate Guide for Motorcycle Accident Victims
Hurt in a Wisconsin, Illinois or Iowa motorcycle wreck? You need our ULTIMATE GUIDE FOR MOTORCYCLE ACCIDENT VICTIMS. Order your copy today for FREE.
Request Information +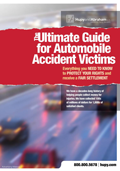 The Ultimate Guide for Automobile Accident Victims
This FREE guide contains everything you need to know to protect your rights and get fair treatment after a serious Wisconsin, Iowa, or Illinois auto accident.
Request Information +