Personal Injury Attorneys Serving Wisconsin Rapids, Wisconsin
Wisconsin Rapids, Wisconsin
Call 24/7/365 - We'll Come to You!
Toll Free: 1-800-800-5678
Open Always - Chat Live With Us Now!
Walk-In Hours:
The Wisconsin, Illinois, and Iowa personal injury attorneys of Hupy and Abraham know what you're dealing with after being involved in an accident. Whether you've been hurt in a Milwaukee car crash or Illinois motorcycle accident, you are facing some serious challenges and we're here to help.
Wisconsin Rapids is a relatively small city with a population of fewer than 20,000 people. However, it is a small city with a big presence. Wisconsin Rapids has a proud history in the papermaking industry. Consolidated Papers began operations in Wisconsin Rapids in 1894 and, while the former Consolidated Papers headquarters has been sold, the paper production facility and mill remain in operation today.
For residents, Wisconsin Rapids offers affordable housing, good schools, and inclusive neighborhoods. Residents and visitors can enjoy festivals, races, entertainers, art exhibitions, stage productions, museums, and other activities and events throughout the year.
With all that Wisconsin Rapids has to offer workers, residents, and visitors, the city is a vital part of south central Wisconsin.
When You're Hurt in a Wisconsin Rapids Accident
With so many active workers, residents, and visitors in Wisconsin Rapids, there is an increased risk of serious accidents. If you've been in a bicycle crash, motorcycle wreck, car accident, slip and fall, or other type of accident that was the result of someone else's negligence, it's important to take immediate steps to ensure a legal recovery for your damages. If you fail to take action, you may be responsible for all of your medical bills, lost wages, and other costs related to your injury.
The person responsible for your injury, or that person's insurance company, will likely fight hard to keep your compensation as low as possible. You deserve to have someone on your side who will aggressively fight to get you the full amount of compensation for your injuries.
Our experienced Wausau personal injury lawyers know how to deal with insurance companies, and we go above and beyond the call of duty to get each of our Wisconsin Rapids clients the fair recoveries they deserve. We want to get to know you and make sure you are treated fairly.
It won't cost you anything to schedule a free consultation with us, and if you choose us to represent you, there will be no upfront costs. Instead, we will take your case on a contingency fee basis and be paid a previously agreed upon percentage of your settlement. To schedule your free consultation at our Wausau office, please call or text us today.
Wausau Office Directions
Wisconsin Rapids Driving Directions
Taking State Highway 13/WI 34 N/4th Ave N.
Turning right on WI 66 E.
Turning left on County Rd O.
Turning right onto Main St.
Turning left onto County Rd HH.
Continuing onto WI 34 N.
Turning left to merge onto I 39 N/ US 51 N toward WI 153 E.
Continuing onto US 51 N.
Taking Exit 191B for Sherman St.
Continuing onto S 24th Ave.
Our office will be on your right: 505 S 24th Avenue #300, Wausau, Wisconsin.
Testimonials by Hupy and Abraham Clients
Hupy and Abraham is the most pro-active, professional, caring and results-oriented personal injury law firm out there. They are absolutely the best advocates for motorcycle-related accidents, hands down! I highly recommend them, although their successful track record speaks for itself as indicated by the People's Choice Award they've earned for many consecutive years in Shepherd Express newspaper. In addition, Attorney Mike Hupy is a local Activist of renown, and generously gives back to the community in so many ways. For example he recently donated $1,000 for Veterans when he personally stopped in to support an event I hosted for Veterans Outreach of WI. He has been actively helping this wonderful non-profit organization continue its work with his donations. Rest assured that by choosing Hupy & Abraham, you'll be placing yourself in the most capable, professional and ethical hands around for your situation.
Written by: Neda Stevic
about Hupy and Abraham
Date published: 04/21/2015
5 / 5 stars
Overall rating: ★★★★★ based on 1 reviews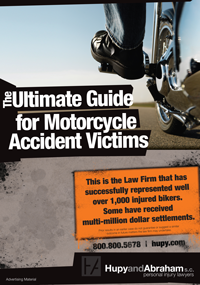 The Ultimate Guide for Motorcycle Accident Victims
Hurt in a Wisconsin, Illinois or Iowa motorcycle wreck? You need our ULTIMATE GUIDE FOR MOTORCYCLE ACCIDENT VICTIMS. Order your copy today for FREE.
Request Information +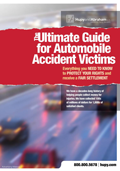 The Ultimate Guide for Automobile Accident Victims
This FREE guide contains everything you need to know to protect your rights and get fair treatment after a serious Wisconsin, Iowa, or Illinois auto accident.
Request Information +