Our Waukegan, Illinois Personal Injury Law Firm
Waukegan, Illinois
Call 24/7/365 - We'll Come to You!
Toll Free: 1-800-800-5678
Open Always - Chat Live With Us Now!
Walk-In Hours:
The Wisconsin, Illinois, and Iowa personal injury attorneys of Hupy and Abraham know what you're dealing with after being involved in an accident. Whether you've been hurt in a Milwaukee car crash or Illinois motorcycle accident, you are facing some serious challenges and we're here to help.
There are many ways to get around the city of Waukegan, Illinois. Whether you travel by foot, car, bus, boat, or plane, Waukegan can accommodate you. As the county seat for Lake County, a lot is going on in this city. Those who live here and those who are employed by large employers such as Lake County, the Waukegan Community Unit School District 60, various healthcare employers, and other smaller employers are vital to the community.
Recoveries From Personal Injury Accidents Are Vital to Us
As a community, we are dependent on each other to use reasonable care to prevent accidents. When someone fails to do that and is negligent, then a serious injury or a fatality can result. For example, if one driver is negligent behind the wheel or one property owner is negligent in the care of his property then someone else could suffer a tragic injury.
It is our job to help protect those who are hurt by other people's negligence in Waukegan and throughout the state of Illinois. It is our job to inform you of your rights and to help you pursue justice. When you hire us you will get the personal attention that you deserve as we fight for your fair and just recovery of healthcare costs, lost income, out-of-pocket costs, and damages for your pain and suffering.
Before we can get started working toward your recovery, however, we need you to contact us for a free, no-obligation consultation. During our confidential meeting, we will explain how this whole process works and what we can do to improve your life after a personal injury accident.
Please contact us today to schedule your confidential meeting. We would be pleased to meet with you in our conveniently located Gurnee, Illinois office.
Gurnee Office Directions
Waukegan Driving Directions
Taking Belvidere Street toward Gurnee.
Turning right on S Hunt Club Road.
Turning right on W Washington Street.
Our office will be on your right, 6475 Washington Street #105, Gurnee, Illinois.


Leave feedback for us online!
Testimonials by Hupy and Abraham Clients
I was overwhelmed after getting hit by a teenager, my Road King was totaled and I went through multiple surgeries and medical treatments that continue even 5 years later. Much of the burden and anxiety of going through an accident disappeared after signing up. I was so glad they were in my corner! Thank you Mike Hupy, Jason Abraham and attorney Vito for helping me through this process! I highly recommend this firm for anyone involved in any type of accident.
Written by: Linda Jo
about Hupy and Abraham
Date published: 07/4/2015
5 / 5 stars
Overall rating: ★★★★★ based on 1 reviews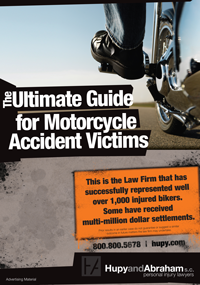 The Ultimate Guide for Motorcycle Accident Victims
Hurt in a Wisconsin, Illinois or Iowa motorcycle wreck? You need our ULTIMATE GUIDE FOR MOTORCYCLE ACCIDENT VICTIMS. Order your copy today for FREE.
Request Information +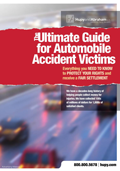 The Ultimate Guide for Automobile Accident Victims
This FREE guide contains everything you need to know to protect your rights and get fair treatment after a serious Wisconsin, Iowa, or Illinois auto accident.
Request Information +