Personal Injury Attorneys Serving Vernon Hills, Illinois
Vernon Hills, Illinois
Call 24/7/365 - We'll Come to You!
Toll Free: 1-800-800-5678
Open Always - Chat Live With Us Now!
Walk-In Hours:
The Wisconsin, Illinois, and Iowa personal injury attorneys of Hupy and Abraham know what you're dealing with after being involved in an accident. Whether you've been hurt in a Milwaukee car crash or Illinois motorcycle accident, you are facing some serious challenges and we're here to help.
Vernon Hills, Illinois has a vision. This northern suburb of Chicago strives to be safe and family-oriented with excellent schools and provide social, recreational, and cultural opportunities. Additionally, Vernon Hills is the retail shopping center for the area, and it has the only certified police department in Lake County.
What to Do If You're Hurt in Vernon Hills
Whether you are out shopping, commuting to Chicago, going to school, or out having fun, you always run the risk of being hurt in a personal injury accident. When you're hurt while driving or on someone else's property, it is important to report any Vernon Hills accident to the police immediately, so an investigation can be at completed. Additionally, it is important to seek immediate medical attention for your injuries.
After you have talked with the police and received medical care, you should contact a lawyer to learn how to obtain compensation for your injuries. If your injury was caused by someone else's negligence, you may have the right to recover damages for your past and future healthcare costs, out-of-pocket expenses, lost income, and pain and suffering.
However, even if the at-fault party has insurance, this can sometimes be a complicated process. The insurance company will try to get you to accept a low a settlement in order to maximize its own profits.
Our experienced Illinois personal injury lawyers want you to receive a fair settlement, and we will do everything we can to help you get it. Contact us for a free, no-obligation consultation at our Gurnee office.
Gurnee Office Directions
Vernon Hills Driving Directions
Heading east on E Phillip Rd toward Deerpath Dr.
Turning left at the first cross street onto Deerpath Dr.
Turning right at the first cross street onto IL-60 E/E Townline Rd.
Using the left two lanes to turn left onto the I-94 N ramp toward Wisconsin.
Merging onto I-94 W.
Taking Exit 11B to merge onto IL-120 W/Belvidere Rd.
Turning right onto S Hunt Club Rd.
Turning right onto W Washington St.
Our office will be on your right: 6475 Washington St #105, Gurnee, Illinois.

Testimonials by Hupy and Abraham Clients
I was overwhelmed after getting hit by a teenager, my Road King was totaled and I went through multiple surgeries and medical treatments that continue even 5 years later. Much of the burden and anxiety of going through an accident disappeared after signing up. I was so glad they were in my corner! Thank you Mike Hupy, Jason Abraham and attorney Vito for helping me through this process! I highly recommend this firm for anyone involved in any type of accident.
Written by: Linda Jo
about Hupy and Abraham
Date published: 07/4/2015
5 / 5 stars
Overall rating: ★★★★★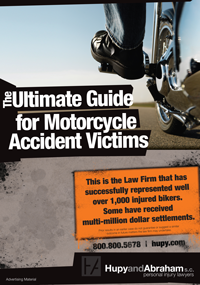 The Ultimate Guide for Motorcycle Accident Victims
Hurt in a Wisconsin, Illinois or Iowa motorcycle wreck? You need our ULTIMATE GUIDE FOR MOTORCYCLE ACCIDENT VICTIMS. Order your copy today for FREE.
Request Information +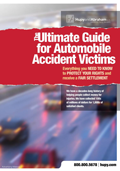 The Ultimate Guide for Automobile Accident Victims
This FREE guide contains everything you need to know to protect your rights and get fair treatment after a serious Wisconsin, Iowa, or Illinois auto accident.
Request Information +