Our Springfield, Illinois Personal Injury Law Firm
Springfield, Illinois
Call 24/7/365 - We'll Come to You!
Toll Free: 1-800-800-5678
Open Always - Chat Live With Us Now!
Walk-In Hours:
The Wisconsin, Illinois, and Iowa personal injury attorneys of Hupy and Abraham know what you're dealing with after being involved in an accident. Whether you've been hurt in a Milwaukee car crash or Illinois motorcycle accident, you are facing some serious challenges and we're here to help.
There is a lot going on in the state capital of Illinois. Whether you are in Springfield to work in state government, to work another job, to live in the city, or to visit attractions such as the Abraham Lincoln Presidential Library and Museum, you will always find plenty to do.
Of course, with the excitement and activities that come in a state capital and bustling city, there are dangers. Crossing the street, riding a motorcycle, driving a car, taking prescription medications, and other everyday activities can sometimes cause serious injuries or deaths.
Your next step should include protecting your legal rights. If someone else's negligence caused you to get hurt in a motor vehicle accident, a slip and fall accident, or any other type of accident, then you may be able to make a legal recovery. That recovery could include compensation for your past, current, and future medical expenses, lost income, out-of-pocket costs, physical pain, emotional suffering, and other damages.
If This Happens to You Then You Need to Know What to Do Next
Our experienced Illinois personal injury lawyers are committed to helping you get the recovery that you deserve. We invite you to come in for a free, no-obligation consultation where we can discuss what happened to you, what your legal rights are, and what your recovery may be if you pursue a legal claim. If you decide to hire us then we are committed to fighting for your unique recovery and to keeping you informed about your case at every stage.
To find out more, please reach out to us anytime—24/7/365—via this website or by phone to schedule your first meeting at our Bloomington office.
Bloomington Office Directions
Springfield Driving Directions
Taking I-55 N/I-72 E.
Keeping right at the fork to stay on I-55 N following signs for Interstate 55 N/Chicago.
Using the right two lanes to take exit 157A-157B for I 55 Business Loop N/Veterans Pkwy/I-74/US 51 toward Decatur/Indianapolis.
Keeping left to take exit 157B following signs for Veterans Pkwy/I-55 Business N.
Continuing onto S Veterans Pkwy.
Using the right lane to take the US 51 Bus N/S Main St ramp.
Turning left onto US 51 Bus N/S Main St.
Turning left onto E Washington St.
Turning right onto the first cross street, N Main St.
Our office will be on your right: 205 N Main St #302, Bloomington, IL.
Testimonials by Hupy and Abraham Clients
I was overwhelmed after getting hit by a teenager, my Road King was totaled and I went through multiple surgeries and medical treatments that continue even 5 years later. Much of the burden and anxiety of going through an accident disappeared after signing up. I was so glad they were in my corner! Thank you Mike Hupy, Jason Abraham and attorney Vito for helping me through this process! I highly recommend this firm for anyone involved in any type of accident.
Written by: Linda Jo
about Hupy and Abraham
Date published: 07/4/2015
5 / 5 stars
Overall rating: ★★★★★ based on 1 reviews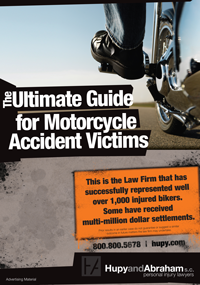 The Ultimate Guide for Motorcycle Accident Victims
Hurt in a Wisconsin, Illinois or Iowa motorcycle wreck? You need our ULTIMATE GUIDE FOR MOTORCYCLE ACCIDENT VICTIMS. Order your copy today for FREE.
Request Information +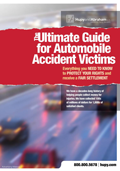 The Ultimate Guide for Automobile Accident Victims
This FREE guide contains everything you need to know to protect your rights and get fair treatment after a serious Wisconsin, Iowa, or Illinois auto accident.
Request Information +