Personal Injury Attorneys Serving Pontiac, Illinois
Pontiac, Illinois
Call 24/7/365 - We'll Come to You!
Toll Free: 1-800-800-5678
Open Always - Chat Live With Us Now!
Walk-In Hours:
The Wisconsin, Illinois, and Iowa personal injury attorneys of Hupy and Abraham know what you're dealing with after being involved in an accident. Whether you've been hurt in a Milwaukee car crash or Illinois motorcycle accident, you are facing some serious challenges and we're here to help.
Pontiac, Illinois, located on historic Route 66, attracts many visitors each year. The town has four museums, a collection of outdoor murals, a group of nine "Looking for Lincoln" heritage sites, unique art exhibits, and three swinging pedestrian bridges.
If You're Hurt in Pontiac
If you're a visitor to Pontiac or you live or work there, it's possible to suffer injuries in an unexpected accident. If this happens, you have the right to hold the person who hurt you accountable and recover damages for your past and future healthcare costs, out-of-pocket expenses, lost income, physical pain, and emotional suffering. However, you can only recover these damages if you can prove that someone else owed you a legal duty of care, breached that duty of care, and caused your injury.
Our experienced Illinois personal injury lawyers can help with your claim if you were hurt in a motorcycle wreck, car crash, truck accident, slip and fall, or in any other accident. It is our goal to get you the compensation you deserve, and we'll work hard to do just that. From the time you first contact us, you will have our full attention and know we are working carefully on your case.
We invite you to contact us via this website or by phone to schedule a free consultation. You have nothing to lose by speaking with us. At the time of our meeting, please join us in our Bloomington office.
Bloomington Office Directions
Pontiac Driving Directions
Taking Historic U.S. 66 W.
Turning right onto IL 116 W/1700 N Rd/W Reynolds St.
Turning left to merge onto I 55 S toward Bloomington.
Taking exit 164-165 for U.S. 51 Business/Interstate 39/U.S. 51 N toward Bloomington-Normal/Rockford.
Keeping right to continue on exit 165, following signs for U.S. 51 BUS/Bloomington-Normal.
Turning left onto U.S. 51 BUS S/N Main St.
Continuing straight to stay on U.S. 51 BUS S/N Main St.
Turning left onto W Washington St.
Turning left at the second cross street onto N Main St.
Our office will be in your right: 205 N Main St #302, Bloomington, Illinois.
Testimonials by Hupy and Abraham Clients
Hupy & Abraham, S. C. are very hardworking. They care about their clients and are honest. I would refer them to everyone I know.
Written by: Laura Lopez
about Hupy and Abraham
Date published: 07/4/2015
5 / 5 stars
Overall rating: ★★★★★ based on 1 reviews
To learn more, please contact us via this website or by phone at any time—24/7/365—to schedule your free consultation with a personal injury lawyer in our Bloomington office.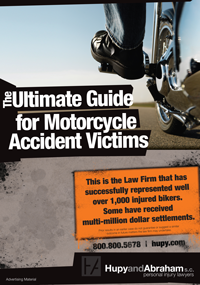 The Ultimate Guide for Motorcycle Accident Victims
Hurt in a Wisconsin, Illinois or Iowa motorcycle wreck? You need our ULTIMATE GUIDE FOR MOTORCYCLE ACCIDENT VICTIMS. Order your copy today for FREE.
Request Information +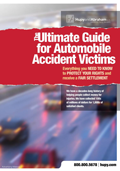 The Ultimate Guide for Automobile Accident Victims
This FREE guide contains everything you need to know to protect your rights and get fair treatment after a serious Wisconsin, Iowa, or Illinois auto accident.
Request Information +