Personal Injury Attorneys Serving Peru, Illinois
Peru, Illinois
Call 24/7/365 - We'll Come to You!
Toll Free: 1-800-800-5678
Open Always - Chat Live With Us Now!
The Wisconsin, Illinois, and Iowa personal injury attorneys of Hupy and Abraham know what you're dealing with after being involved in an accident. Whether you've been hurt in a Milwaukee car crash or Illinois motorcycle accident, you are facing some serious challenges and we're here to help.
The small city of Peru is in a lovely valley along the Illinois River, just a few miles from the intersection of I-39 and I-80. It's home to some well-established companies—some more than a century old!—as well as vibrant new businesses. Residents and visitors alike can enjoy the area's parks, playgrounds, playing fields, and local events.
What Happens When an Ordinary Day in Peru Ends With a Personal Injury?
Whatever was on your mind before you were hurt will likely take a backseat to your physical and financial needs immediately after an accident. Instead of focusing on work, family, or recreational activities, you must now focus on doctors' appointments, bills, and physical pain.
If someone else's negligence resulted in your injuries, you need to take action by contacting our experienced Illinois personal injury lawyers for a free consultation. We want to know what happened to you, and we want to fight for your fair financial recovery. We want to help you get back to a normal, happy life.
To learn more about how we can help you receive compensation for past and future medical bills, lost income, pain and suffering, and other damages, please use the contact form on this website or call anytime. We're here to assist you and we would be pleased to provide a free initial consultation. For our meeting, please join us in our Bloomington, Illinois office.
Bloomington Office Directions
Peru Driving Directions
Head east on 4th St. toward Putnam St.
Exit onto IL 251 S toward Tonica.
Turn right to merge onto I-39 S/US 51 S.
Use the right two lanes to take the I-55 S /I-4 exit toward US 51/Decatur/St. Louis/
I-74/Peoria/ Champaign.
Merge onto I-55 S/US 51 S.
Take Exit 160 for US 150/IL 9 toward Pekin.
Use the left two lanes to turn left onto IL 9 E/US 150 E/W. Market St.
Continue straight on W. Market St.
Turn right onto N. Madison St.
Turn left at the third cross street, W. Washington St.
Turn left at the second cross street, N. Main St.
Our office will be in your right: 205 N. Main St., Ste. 302, Bloomington.
Testimonials by Hupy and Abraham Clients
Hupy & Abraham, S. C. are very hardworking. They care about their clients and are honest. I would refer them to everyone I know.
Written by: Laura Lopez
about Hupy and Abraham
Date published: 07/4/2015
5 / 5 stars
Overall rating: ★★★★★ based on 1 reviews
To learn more, please contact us via this website or by phone at any time—24/7/365—to schedule your free consultation with a personal injury lawyer in our Bloomington office.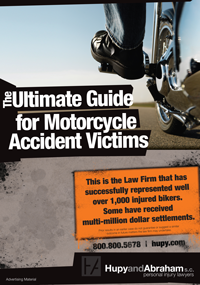 The Ultimate Guide for Motorcycle Accident Victims
Hurt in a Wisconsin, Illinois or Iowa motorcycle wreck? You need our ULTIMATE GUIDE FOR MOTORCYCLE ACCIDENT VICTIMS. Order your copy today for FREE.
Request Information +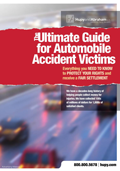 The Ultimate Guide for Automobile Accident Victims
This FREE guide contains everything you need to know to protect your rights and get fair treatment after a serious Wisconsin, Iowa, or Illinois auto accident.
Request Information +