Personal Injury Attorneys Serving Whitewater, Wisconsin
Whitewater, Wisconsin
Call 24/7/365 - We'll Come to You!
Toll Free: 1-800-800-5678
Open Always - Chat Live With Us Now!
Walk-In Hours:
The Wisconsin, Illinois, and Iowa personal injury attorneys of Hupy and Abraham know what you're dealing with after being involved in an accident. Whether you've been hurt in a Milwaukee car crash or Illinois motorcycle accident, you are facing some serious challenges and we're here to help.
Whether you attend the University of Wisconsin at Whitewater, you visit Whitewater to attend the Freeze Fest in January or the celebration on the Fourth of July, you work here, or you make your home here, you deserve to feel safe in the city of Whitewater.
Unfortunately, accidents can happen in Whitewater—as they can anywhere in Wisconsin. You may be hurt on your commute to work, your drive to school, while frequenting a business, or while visiting someone's home.
You Deserve the Help of an Experienced Wisconsin Personal Injury Lawyer
Our lawyers routinely help people who have been hurt in motorcycle crashes, car accidents, truck wrecks, slip and falls, negligent security accidents, nursing home incidents, and other types of accidents. However, your case will be anything but routine to us. Instead, we will get to know you as an individual, we will investigate what caused your accident, and we will go above and beyond the call of duty to fight for your full and fair damages.
Liability can be complicated and insurance companies may fight back against your fair settlement, but our lawyers know how to handle these obstacles. Let us fight for your fair recovery. Contact us today via this website or by phone to schedule a free and confidential consultation.
At the time of our meeting, we invite you to join us in our Madison office.
Madison Office Directions
Whitewater Driving Directions
Taking US 12 W.
Turning left on County Highway N.
Turning right on WI 59 W.
Taking the ramp onto I-39 N/I-90 W.
Using the left lane to take Exit 142A to merge onto US-12 W/US-18 W toward Madison.
Taking Exit 259 toward Todd Drive.
Continuing on to W Beltline Access Road.
Turning left on Todd Drive.
Turning right on W Beltline Frontage Road.
Turning left.
Our office will be on your left: 3001 W Beltline Highway, Suite 204, Madison, Wisconsin.
Testimonials by Hupy and Abraham Clients
Hupy and Abrahams law firm is wonderful! They actually mean business when it comes to your case and they care about others as proven in their don't text & drive campaign. They promote motorcycle awareness and are actively involved w many community events and overall they're simply good people!
Written by: Ruthy Boehm
about Hupy and Abraham
Date published: 07/4/2015
5 / 5 stars
Overall rating: ★★★★★ based on 1 reviews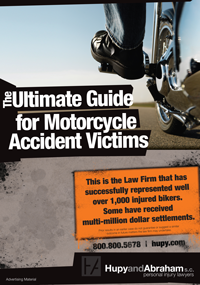 The Ultimate Guide for Motorcycle Accident Victims
Hurt in a Wisconsin, Illinois or Iowa motorcycle wreck? You need our ULTIMATE GUIDE FOR MOTORCYCLE ACCIDENT VICTIMS. Order your copy today for FREE.
Request Information +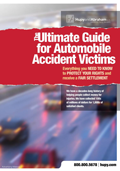 The Ultimate Guide for Automobile Accident Victims
This FREE guide contains everything you need to know to protect your rights and get fair treatment after a serious Wisconsin, Iowa, or Illinois auto accident.
Request Information +