Our Urbandale, Iowa Personal Injury Law Firm
Urbandale, Iowa
Call 24/7/365 - We'll Come to You!
Toll Free: 1-800-800-5678
Open Always - Chat Live With Us Now!
Walk-In Hours:
The Wisconsin, Illinois, and Iowa personal injury attorneys of Hupy and Abraham know what you're dealing with after being involved in an accident. Whether you've been hurt in a Milwaukee car crash or Illinois motorcycle accident, you are facing some serious challenges and we're here to help.
In 1920, only about 300 people lived in Urbandale, Iowa, and streetcars were dominant on Urbandale's streets.
Today, Urbandale is Iowa's 12th largest city. The streetcars are no longer in use and those who live and work in Urbandale often travel via Interstates 35 and 80, Iowa 141, and local roads to get around the city, to get to Des Moines, and to go elsewhere.
What to Do If You Are Hurt in Urbandale
An Urbandale accident can be devastating. Whether you are hurt in a motor vehicle crash, an accident on someone else's property, by a prescription drug or medical device, or in any other way. your injuries may be significant. You may be left with broken bones, a traumatic brain injury, a spinal cord injury, an internal injury, or another type of injury that changes your life forever.
You can't go back and prevent the accident from happening, and you can't immediately undo the physical harm and emotional pain that you are suffering. However, you can take steps to protect your physical, emotional, and financial recoveries. You can make sure that you get the medical care that you need and you can work with an experienced Des Moines personal injury lawyer.
Our attorneys are committed to helping all of our individual clients get the fair recoveries that they deserve. We do this by thoroughly investigating every claim, negotiating with insurance companies, and representing our clients' interests in court.
You risk nothing by contacting us. We would be pleased to provide you with a free consultation and we are only paid if we recover financial damages on your behalf. To learn more, please schedule your initial meeting with us in our conveniently located Des Moines office.
Des Moines Office Directions
Urbandale Driving Directions
Taking I-235 W.
Taking Exit 1A for 50th St toward W Des Moines.
Turning right onto 50th Street.
Turning left onto Westown Parkway.
Our office is located at 6600 Westown Parkway, Suite 270, West Des Moines, IA.
Leave feedback for us online!
Testimonials by Hupy and Abraham Clients
I've promoted motorcycle awareness while working with Hupy and Abraham personal injury law firm for almost a year now, I have nothing but great things to say about this firm. Very friendly and professional staff. Wonderful firm to work with. An array of positive feedback from the Hupy and Abraham clientele proves a job well done from this firm.
Written by: Sorya Sunny
about Hupy and Abraham
Date published: 07/4/2015
5 / 5 stars
Overall rating: ★★★★★ based on 1 reviews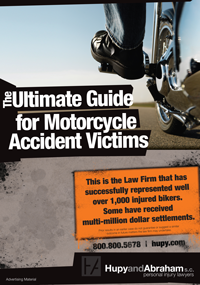 The Ultimate Guide for Motorcycle Accident Victims
Hurt in a Wisconsin, Illinois or Iowa motorcycle wreck? You need our ULTIMATE GUIDE FOR MOTORCYCLE ACCIDENT VICTIMS. Order your copy today for FREE.
Request Information +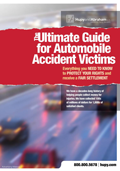 The Ultimate Guide for Automobile Accident Victims
This FREE guide contains everything you need to know to protect your rights and get fair treatment after a serious Wisconsin, Iowa, or Illinois auto accident.
Request Information +