Personal Injury Attorneys Serving Two Rivers, Wisconsin
Two Rivers, Wisconsin
Call 24/7/365 - We'll Come to You!
Toll Free: 1-800-800-5678
Open Always - Chat Live With Us Now!
Walk-In Hours:
The Wisconsin, Illinois, and Iowa personal injury attorneys of Hupy and Abraham know what you're dealing with after being involved in an accident. Whether you've been hurt in a Milwaukee car crash or Illinois motorcycle accident, you are facing some serious challenges and we're here to help.
There are many reasons to live and work in Two Rivers, Wisconsin. Whether it is spending time at the beach, deep sea fishing, living in a small city, or working in a robust manufacturing and service economy that brings you to Two Rivers, there is one thing that almost everyone can enjoy—ice cream.
Two Rivers is the birthplace of the ice cream sundae. It was back in 1881 that this great discovery was first made, and it is still widely enjoyed today by both locals and visitors alike.
But Not Every Day is a Day at the Beach Complete With an Ice Cream Sundae
Accidents happen in Two Rivers, just like they do elsewhere in Wisconsin. People are negligent, and that negligence results in motorcycle wrecks, car crashes, slip and fall accidents, negligent security incidents, dog bites, and other types of accidents. If you've been injured by one of your neighbors or a stranger, then you need to take action to protect your rights as soon as possible.
You need to pursue a fair settlement—often with the negligent party's insurance company—so that you can protect yourself from suffering financial injury in addition to the physical and emotional pain that you are already experiencing.
Our personal injury attorneys can help you do that. From our conveniently located Green Bay office, we can meet with you—for free—and talk to you about your options. When you decide to hire us, you are hiring fierce protectors who will go above and beyond the call of duty to make sure that you get the fair and just recovery that you deserve.
We invite you to learn more about your rights and your potential recovery by contacting us today for a free, no-obligation consultation. We welcome your visit to our Green Bay office.
Green Bay Office Directions
Two Rivers Driving Directions
Taking I-43 N.
Taking Exit 180 for WI-172 W toward WI 32/A. Straubel/Airport.
Continuing on WI-172 W until the exit for WI-32/Oneida St/Ashland Avenue.
Keeping left at the fork following signs for Pilgrim Way and merging onto Pilgrim Way.
Turning left onto S Oneida Street.
Turning right onto Hansen Road.
Turning left onto Ramada Way
Our office will be on your right: 2380 Ramada Way, Suite #100, Green Bay, WI.
Leave feedback for us online!
Testimonials by Hupy and Abraham Clients
We have teamed up with Hupy and Abraham for nearly 7 years to support Wisconsin's rider Community through our Wisco riders Resource Guide. They are also always willing to lend a hand with our annual, WISCO rider Rally & Music Festival with their presence and sponsorship. It's always great when you can partner up with a company or organization that understands the importance of the motorcycle community and goes above and beyond supporting this group of folks however and whenever possible. Kudos to Hupy & Abraham for always standing up for (and) behind Wisconsin riders!
Written by: Stefanie Fay
about Hupy and Abraham
Date published: 07/4/2015
5 / 5 stars
Overall rating: ★★★★★ based on 1 reviews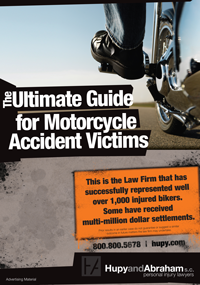 The Ultimate Guide for Motorcycle Accident Victims
Hurt in a Wisconsin, Illinois or Iowa motorcycle wreck? You need our ULTIMATE GUIDE FOR MOTORCYCLE ACCIDENT VICTIMS. Order your copy today for FREE.
Request Information +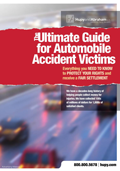 The Ultimate Guide for Automobile Accident Victims
This FREE guide contains everything you need to know to protect your rights and get fair treatment after a serious Wisconsin, Iowa, or Illinois auto accident.
Request Information +