Our Peoria, Illinois Personal Injury Law Firm
Peoria, Illinois
Call 24/7/365 - We'll Come to You!
Toll Free: 1-800-800-5678
Open Always - Chat Live With Us Now!
Walk-In Hours:
The Wisconsin, Illinois, and Iowa personal injury attorneys of Hupy and Abraham know what you're dealing with after being involved in an accident. Whether you've been hurt in a Milwaukee car crash or Illinois motorcycle accident, you are facing some serious challenges and we're here to help.
There are many things that make Peoria special. As the largest city on the Illinois River, Peoria has a special and historic RiverFront District with lots of great restaurants and entertainment options. Whether you decide to spend an evening on the RiverFront, a day enjoying Wildlife Prairie State Park, a day working at USDA's National Center for Agricultural Utilization Research, or a day attending one of several colleges located in the area, you will be enriched by the activities in this city that has been named one of the best mannered cities in the country.
Unfortunately, even in a city where polite manners are valued accidents still happen. Drivers are still impatient, dogs are still aggressive, and property owners are still negligent. Serious accidents happen and you will have to fight for your fair recovery in Peoria—just as you would anywhere else.
Protect the Recovery That You Deserve
If someone else's negligence caused your injuries, then you need to take action to protect your legal rights. You may be able to recover damages for your past, current, and future medical costs, lost income, out-of-pocket expenses, physical pain, emotional suffering, and other losses. However, before you can make this recovery you will have to prove that someone else was negligent and you will have to establish the value of your damages.
An experienced personal injury lawyer can help you do that in a way that respects the polite tradition of Peoria but never waivers on seeking the fair damages that you deserve. To learn more, we encourage you to schedule a free consultation with us in our conveniently located Bloomington office.
Bloomington Office Location
Peoria Driving Directions
Take I-74 to Exit 125 for US-150 toward Mitsubishi Motorway.
Turn right on to US-150 E (following sings for Mitsubishi Motorway).
Turn right at the first cross street—Mabel Road.
Continue on to White Oak Road.
Turn left on to W Locust Street.
Turn right on to N Center St / N Madison St.
Turn left on to W Washington Street.
Turn left at the second cross street on to N Main Street.
Our office will be on your right: 205 N Main St #302, Bloomington, IL.
Leave feedback for us online!
Testimonials by Hupy and Abraham Clients
Hupy & Abraham, S. C. are very hardworking. They care about their clients and are honest. I would refer them to everyone I know.
Written by: Laura Lopez
about Hupy and Abraham
Date published: 07/4/2015
5 / 5 stars
Overall rating: ★★★★★ based on 1 reviews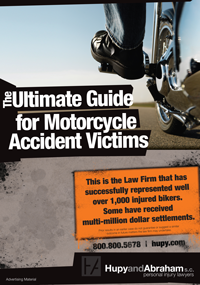 The Ultimate Guide for Motorcycle Accident Victims
Hurt in a Wisconsin, Illinois or Iowa motorcycle wreck? You need our ULTIMATE GUIDE FOR MOTORCYCLE ACCIDENT VICTIMS. Order your copy today for FREE.
Request Information +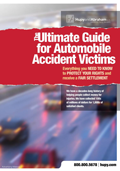 The Ultimate Guide for Automobile Accident Victims
This FREE guide contains everything you need to know to protect your rights and get fair treatment after a serious Wisconsin, Iowa, or Illinois auto accident.
Request Information +