Our Oak Creek Personal Injury Law Firm
Oak Creek, Wisconsin
Call 24/7/365 - We'll Come to You!
Toll Free: 1-800-800-5678
Open Always - Chat Live With Us Now!
Walk-In Hours:
The Wisconsin, Illinois, and Iowa personal injury attorneys of Hupy and Abraham know what you're dealing with after being involved in an accident. Whether you've been hurt in a Milwaukee car crash or Illinois motorcycle accident, you are facing some serious challenges and we're here to help.
"Where City Meets Country"—that is the motto of Oak Creek, Wisconsin, and a fitting description of the 28.4-square-mile city that is located next to Milwaukee. Here in Oak Creek, residents can enjoy a suburban lifestyle while enjoying all of the advantages of being in a metropolitan area.
Over the last few decades, Oak Creek has seen a significant increase in population and has had a substantial business growth in both the retail and industrial sectors. The city of Oak Creek is divided into 22 different neighborhoods and has a wide variety of housing options including single family homes, duplexes, apartments, condominiums, and mobile homes.
Wherever You Go, Accidents Happen
Whether you are riding your motorcycle, commuting by car, or traveling on foot, you depend on the people around you to be careful. Sometimes, however, other drivers or property owners are negligent and serious accidents result.
Our Milwaukee personal injury lawyers regularly represent people who have been hurt in motor vehicle crashes, slip and fall accidents, negligent security incidents and other types of accidents. Our goal is to achieve a fair and full recovery for every individual client whom we represent. We want to know how your injury impacts your life and we want to do everything that we can to see that you are compensated for your past and future medical expenses, lost income, out of pocket costs, pain, suffering, and other damages.
While we will fight tirelessly to get you the recovery that you deserve, you have to take the first step by contacting us to schedule a free, no-obligation consultation. We would be happy to meet with you in our conveniently located Milwaukee law office. Simply call us or reach out to us via this website today to set up your meeting.
Milwaukee Office Directions
Oak Creek Driving Directions
Taking I 794 N to I 794 W.
Using the left lane to stay on I 794 W.
Using the left lane to take Exit 1E to merge onto N Milwaukee St toward Downtown.
Turning left on E Michigan Street.
Turning right on N Plankinton Avenue.
Turning right on W Kilbourn Avenue.
Our office will be on your right: 111 E Kilbourn Avenue, Suite #1100, Milwaukee, Wisconsin.
Hupy and Abraham is the most pro-active, professional, caring and results-oriented personal injury law firm out there. They are absolutely the best advocates for motorcycle-related accidents, hands down! I highly recommend them, although their successful track record speaks for itself as indicated by the People's Choice Award they've earned for many consecutive years in Shepherd Express newspaper. In addition, Attorney Mike Hupy is a local Activist of renown, and generously gives back to the community in so many ways. For example he recently donated $1,000 for Veterans when he personally stopped in to support an event I hosted for Veterans Outreach of WI. He has been actively helping this wonderful non-profit organization continue its work with his donations. Rest assured that by choosing Hupy & Abraham, you'll be placing yourself in the most capable, professional and ethical hands around for your situation.
Written by: Neda Stevic
about Hupy and Abraham
Date published: 04/21/2015
5 / 5 stars
Overall rating: ★★★★★ based on 1 reviews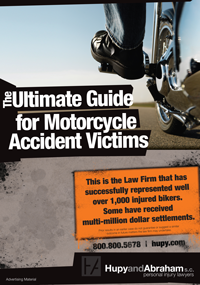 The Ultimate Guide for Motorcycle Accident Victims
Hurt in a Wisconsin, Illinois or Iowa motorcycle wreck? You need our ULTIMATE GUIDE FOR MOTORCYCLE ACCIDENT VICTIMS. Order your copy today for FREE.
Request Information +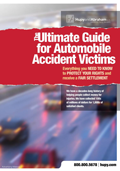 The Ultimate Guide for Automobile Accident Victims
This FREE guide contains everything you need to know to protect your rights and get fair treatment after a serious Wisconsin, Iowa, or Illinois auto accident.
Request Information +