Our Neenah Personal Injury Law Firm
Neenah, Wisconsin
Call 24/7/365 - We'll Come to You!
Toll Free: 1-800-800-5678
Open Always - Chat Live With Us Now!
Walk-In Hours:
The Wisconsin, Illinois, and Iowa personal injury attorneys of Hupy and Abraham know what you're dealing with after being involved in an accident. Whether you've been hurt in a Milwaukee car crash or Illinois motorcycle accident, you are facing some serious challenges and we're here to help.
As part of the Fox Cities metro area, Neenah, Wisconsin, has a small-town feel and it is part of the fastest growing metropolitan area in Wisconsin.
Neenah advertises itself as a "friendly, spirited 'hometown' where life is safe, comfortable, and secure." That is true most days for most people, but, unfortunately, Neenah is not immune to personal injury accidents. If you were the one who was hurt in a motor vehicle crash, in an accident on someone else's property, or because of the negligent or intentional actions of someone else, then you are no longer safe, comfortable, or secure and you deserve to make a full and fair recovery for the injuries that you've suffered.
Our Personal Injury Lawyers Are Ready to Help You
Our goal is to get you back to being safe, comfortable, and secure as quickly and completely as possible. To that end, our experienced attorneys will work tirelessly to get you the recovery that you deserve. We are experienced negotiators, we know how to thoroughly investigate every case, and we are not afraid to go to court to get our clients the recoveries that they deserve.
We go above and beyond the call of duty for each of our clients. Our compassionate and experienced lawyers are dedicated to each client we represent and the Wisconsin community as a whole. It is our mission to give our clients the best representation possible, to give them personal attention, and to give back to our community.
To learn more about how we can help you get the fair recovery that you deserve, we encourage you to schedule a free consultation with us in our Appleton office.
Appleton Office Directions
Neenah Driving Directions
Getting on I 41/US 41 N in Menasha from Main Street and N Lake Street.
Following I 41/US 41 N to WI-125 E/W College Ave in Grand Chute.
Take Exit 137 from I 41/US 41 N.
Using the right lane to turn on to WI-125 E/W College Avenue. Our office will be on your right, at 3945 W College Avenue in Appleton.
Contact us by phone, text, e-mail or a live chat to learn more today.
Testimonials by Hupy and Abraham Clients
Hupy and Abraham really do mean business! They show how they care by running "don't text and drive" campaigns, they take time to help our community and small start up businesses and our vets! Thank you Hupy and Abraham for being a wonderful part of the community and REALLY caring!
Written by: Ruthy Boehm
about Hupy and Abraham
Date published: 07/4/2015
5 / 5 stars
Overall rating: ★★★★★ based on 1 reviews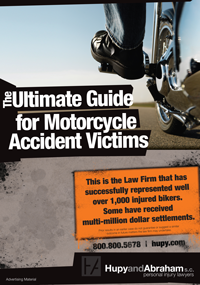 The Ultimate Guide for Motorcycle Accident Victims
Hurt in a Wisconsin, Illinois or Iowa motorcycle wreck? You need our ULTIMATE GUIDE FOR MOTORCYCLE ACCIDENT VICTIMS. Order your copy today for FREE.
Request Information +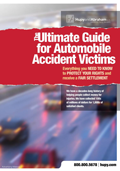 The Ultimate Guide for Automobile Accident Victims
This FREE guide contains everything you need to know to protect your rights and get fair treatment after a serious Wisconsin, Iowa, or Illinois auto accident.
Request Information +