Our Muscatine, Iowa Personal Injury Law Firm
Muscatine, Iowa
Call 24/7/365 - We'll Come to You!
Toll Free: 1-800-800-5678
Open Always - Chat Live With Us Now!
Walk-In Hours:
The Wisconsin, Illinois, and Iowa personal injury attorneys of Hupy and Abraham know what you're dealing with after being involved in an accident. Whether you've been hurt in a Milwaukee car crash or Illinois motorcycle accident, you are facing some serious challenges and we're here to help.
Muscatine is known as the "Pearl of the Mississippi" because of its history as a global leader in the manufacturing of pearl buttons. The city's historic districts and buildings still tell the story of what life used to be like in Muscatine, but, perhaps no one described Muscatine more clearly than Mark Twain. After living in Muscatine, this is what Mark Twain is credited with recalling: "I remember Muscatine—still more pleasantly—for its summer sunsets. I have never seen any, on either side of the ocean, that equaled them"
Today, the sunsets remain part of what makes Muscatine great, but there are many other factors that make the city a special place. Muscatine is now home to several Fortune 500 companies. The city has many attractions and amenities that make it a desirable place to live, and it is easily accessible from I 80, U.S. Highways 61 and 6, and Iowa State Highways 22 and 38.
But Accidents Happen Even in the Most Beautiful Places
Whether you are traveling to work, visiting one of the National Historic Districts, doing errands, or enjoying one of the cultural activities in Muscatine, you are at risk of getting hurt. A car wreck, a motorcycle crash, a dog bite, or another personal injury accident could result in significant injuries.
You need to take action in order to protect your right to recover fair damages. If you work, visit, or live in Muscatine, we encourage you to protect your fair recovery by talking to an experienced Iowa personal injury lawyer. Our attorneys will investigate what happened to you and negotiate with insurance companies on your behalf. They will not hesitate to take your case to court if that is what is necessary to get you the compensation that you deserve.
You can learn more about your rights and your potential recovery by contacting us directly via this website or by phone to schedule a free consultation with an attorney in our Davenport office.
Davenport Office Directions
Muscatine Driving Directions
Taking US 61 N.
Continuing onto West River Drive.
Turning left to merge onto I 280 W.
Taking the exit onto I 80 E toward Chicago.
Taking Exit 298 for I 74 W toward Bettendorf/Davenport.
Continuing on I 74 until Exit 1.
Taking Exit 1 for 53rd St toward Hamilton/Tech College.
Using the left two lanes to turn left onto E 53rd Street.
Turning right onto Utica Ridge Road.
Our office will be on your left: 5139 Utica Ridge Road, Davenport, Iowa.
Testimonials by Hupy and Abraham Clients
I've promoted motorcycle awareness while working with Hupy and Abraham personal injury law firm for almost a year now, I have nothing but great things to say about this firm. Very friendly and professional staff. Wonderful firm to work with. An array of positive feedback from the Hupy and Abraham clientele proves a job well done from this firm.
Written by: Sorya Sunny
about Hupy and Abraham
Date published: 07/4/2015
5 / 5 stars
Overall rating: ★★★★★ based on 1 reviews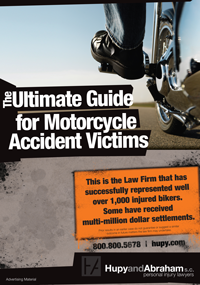 The Ultimate Guide for Motorcycle Accident Victims
Hurt in a Wisconsin, Illinois or Iowa motorcycle wreck? You need our ULTIMATE GUIDE FOR MOTORCYCLE ACCIDENT VICTIMS. Order your copy today for FREE.
Request Information +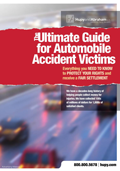 The Ultimate Guide for Automobile Accident Victims
This FREE guide contains everything you need to know to protect your rights and get fair treatment after a serious Wisconsin, Iowa, or Illinois auto accident.
Request Information +