Our Marshfield, Wisconsin Personal Injury Law Firm
Marshfield, Wisconsin
Call 24/7/365 - We'll Come to You!
Toll Free: 1-800-800-5678
Open Always - Chat Live With Us Now!
Walk-In Hours:
The Wisconsin, Illinois, and Iowa personal injury attorneys of Hupy and Abraham know what you're dealing with after being involved in an accident. Whether you've been hurt in a Milwaukee car crash or Illinois motorcycle accident, you are facing some serious challenges and we're here to help.
Marshfield has been named the "Best Place to Live in Wisconsin and Eighth Best Place to Live in America" by Bizjournal.com. It is considered a dream city where you can receive world-class health care, enjoy a safe community, get an excellent education, find a job, and experience an all-around high quality of life.
Unfortunately, nightmares can occur even in a dream city. All it takes is the negligence of one driver, one property owner, one pharmaceutical company, or one nursing home to make you wish that you could wake up from the bad dream. Just one moment of negligence can result in a serious, painful, and expensive personal injury.
If This Happens to You, Then You Will Need to Take Action to Protect Your Dreams
If you fail to take action then the bills and lost income that you incur as a result of your injuries will remain solely on your shoulders. This can change your life and make it difficult, if not impossible, for you to achieve the goals that you set prior to your injury. It doesn't have to be this way, however.
As a resident or visitor who is hurt in a Marshfield accident, you have the right to take action by contacting an experienced personal injury lawyer for help. The attorneys of Hupy and Abraham will investigate what happened to you and fight for your full and fair personal recovery during insurance settlement negotiations or in court, if necessary.
We understand that you have a lot on your mind right now and that pursuing a legal recovery is a big decision. Accordingly, we encourage you to find out more about your rights and possible recovery before you make any decisions. You can do that by scheduling a free initial consultation with us. Simply call us or contact us via this website to learn more. Then, come to our Wausau office for a no-obligation meeting.
Wausau Office Directions
Marshfield Driving Directions
Take WI 97 N to WI 29 E/ WI 29 Trunk E toward Wausau.
Use the middle lane to take the US 51 Exit toward I 39.
Keep left to continue on Stewart Avenue.
Turn right onto Stewart Avenue.
Turn right on S 24th Avenue.
Our office will be on your left, at 505 S 24th Ave #300 in Wausau, WI.
Testimonials by Hupy and Abraham Clients
Hupy and Abraham is the most pro-active, professional, caring and results-oriented personal injury law firm out there. They are absolutely the best advocates for motorcycle-related accidents, hands down! I highly recommend them, although their successful track record speaks for itself as indicated by the People's Choice Award they've earned for many consecutive years in Shepherd Express newspaper. In addition, Attorney Mike Hupy is a local Activist of renown, and generously gives back to the community in so many ways. For example he recently donated $1,000 for Veterans when he personally stopped in to support an event I hosted for Veterans Outreach of WI. He has been actively helping this wonderful non-profit organization continue its work with his donations. Rest assured that by choosing Hupy & Abraham, you'll be placing yourself in the most capable, professional and ethical hands around for your situation.
Written by: Neda Stevic
about Hupy and Abraham
Date published: 04/21/2015
5 / 5 stars
Overall rating: ★★★★★ based on 1 reviews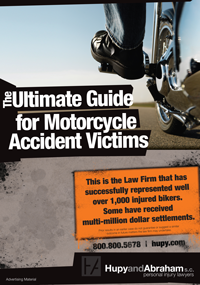 The Ultimate Guide for Motorcycle Accident Victims
Hurt in a Wisconsin, Illinois or Iowa motorcycle wreck? You need our ULTIMATE GUIDE FOR MOTORCYCLE ACCIDENT VICTIMS. Order your copy today for FREE.
Request Information +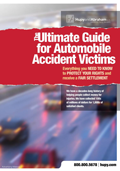 The Ultimate Guide for Automobile Accident Victims
This FREE guide contains everything you need to know to protect your rights and get fair treatment after a serious Wisconsin, Iowa, or Illinois auto accident.
Request Information +