Our Manitowoc Personal Injury Law Firm
Manitowoc, Wisconsin
Call 24/7/365 - We'll Come to You!
Toll Free: 1-800-800-5678
Open Always - Chat Live With Us Now!
Walk-In Hours:
The Wisconsin, Illinois, and Iowa personal injury attorneys of Hupy and Abraham know what you're dealing with after being involved in an accident. Whether you've been hurt in a Milwaukee car crash or Illinois motorcycle accident, you are facing some serious challenges and we're here to help.
Manitowoc is known as Wisconsin's maritime capital. Here on the shores of Lake Michigan, you can explore Wisconsin's maritime history, explore beaches and marinas, shop downtown, work, live, and play. The city has a lot to offer residents, workers, and tourists—all of whom contribute to making Manitowoc special.
Since you are a vital part of the Manitowoc community, it is important that you make the fair legal recovery that you deserve if you've been hurt in accident.
Your Injury was Personal and Your Legal Representation Should Also Be Personal
Our lawyers have represented a lot of clients and handled many cases. We are experienced, and with that experience comes an appreciation for recognizing what makes each case unique. While the circumstances of your accident, pharmaceutical injury, or other injury may be similar to someone else's, this accident happened to you and you've been hurt in ways that no one else has been hurt. You deserve to be represented by an experienced lawyer who truly understands your unique situation and who is willing to fight for your fair and just recovery.
At Hupy and Abraham, it is our mission to provide you with personal service, to always keep you up to date on what is happening in your case, and to be with you every step of the way from the time that you first contact our office until you have your legal compensation in your bank account.
We invite you to visit us at our Green Bay office at your convenience.
Green Bay Office Directions
Manitowoc Driving Directions
Taking I-43 N to Ashwaubenon.
Taking Exit 180 for WI–172 W toward WI-32/A. Straubel/Airport.
Continuing on WI-172 W.
Taking the exit toward WI-32/Oneida St/Ashland Ave from WI-172 W.
Keeping left at the fork and continue on to Pilgrim Way.
Taking Pilgrim Way and then make a left on Oneida Street.
Turning right onto Hansen Road.
Turning left on Ramada Way. Our office will be on your right: 2830 Ramada Way #100 in Green Bay.
Please call, text, or contact us through this website at any time to schedule your free consultation with one of our experienced attorneys.
Testimonials by Hupy and Abraham Clients
We have teamed up with Hupy and Abraham for nearly 7 years to support Wisconsin's rider Community through our Wisco riders Resource Guide. They are also always willing to lend a hand with our annual, WISCO rider Rally & Music Festival with their presence and sponsorship. It's always great when you can partner up with a company or organization that understands the importance of the motorcycle community and goes above and beyond supporting this group of folks however and whenever possible. Kudos to Hupy & Abraham for always standing up for (and) behind Wisconsin riders!
Written by: Stefanie Fay
about Hupy and Abraham
Date published: 07/4/2015
5 / 5 stars
Overall rating: ★★★★★ based on 1 reviews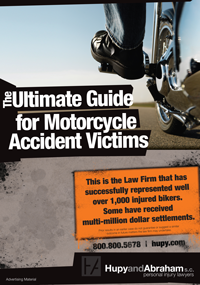 The Ultimate Guide for Motorcycle Accident Victims
Hurt in a Wisconsin, Illinois or Iowa motorcycle wreck? You need our ULTIMATE GUIDE FOR MOTORCYCLE ACCIDENT VICTIMS. Order your copy today for FREE.
Request Information +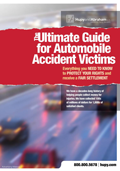 The Ultimate Guide for Automobile Accident Victims
This FREE guide contains everything you need to know to protect your rights and get fair treatment after a serious Wisconsin, Iowa, or Illinois auto accident.
Request Information +