Our Lake In The Hills, Illinois Personal Injury Law Firm
Lake in the Hills, Illinois
Call 24/7/365 - We'll Come to You!
Toll Free: 1-800-800-5678
Open Always - Chat Live With Us Now!
Walk-In Hours:
The Wisconsin, Illinois, and Iowa personal injury attorneys of Hupy and Abraham know what you're dealing with after being involved in an accident. Whether you've been hurt in a Milwaukee car crash or Illinois motorcycle accident, you are facing some serious challenges and we're here to help.
Until the late 20th century, Lake in the Hills was a quiet village of small homes. Beginning in the 1990s, developers began rapidly expanding residential properties, and the area became one of the fastest-growing suburban communities in the United States. Infrastructure, municipal services, and other amenities were expanded to keep up with the growing population. Today, there is a wide variety of parks, recreational programs, businesses and, of course, lakes for residents, workers, and visitors to use and enjoy.
More People May More Mean More Risks of Personal Injury
Lake in the Hills is a community where neighbors often look out for neighbors. However, with more people on the roads, walking their dogs, and securing their own properties, more accidents can occur. Whether it is a car accident with a stranger or a slip and fall accident on your neighbor's property that leaves you injured, you have the right to recover damages if you can prove that someone else's negligence caused your injury.
The majority of personal injury recoveries are paid by insurance companies. You owe it to yourself to speak to one of our experienced Rockford attorneys about who may be responsible for your injuries and how much you may be to recover in a legal action. We will provide you with the personalized attention that you deserve and we will fight hard for your fair and just recovery.
We would be happy to speak with you at any time. Simply call us or contact us through this website to schedule your free, no-obligation meeting with one of our experienced and empathetic attorneys at our Rockford office.
Rockford Office Directions
Lake In The Hills Driving Directions
Take I 90 W.
Taking the US 20 BUS / State St exit.
Keeping right at the fork, following signs for Rockford, and merging onto US 20 BUS W/ E State Street.
Turning right onto N Bell School Road.
Turning left onto Guilford Road.
Turning right onto N Perryville Road.
Turning left onto Rote Road.
Our office is located at 6952 Rote Road, Suite #200, Rockford, Illinois.
Leave feedback for us online!
Testimonials by Hupy and Abraham Clients
Hupy & Abraham, S. C. are very hardworking. They care about their clients and are honest. I would refer them to everyone I know.
Written by: Laura Lopez
about Hupy and Abraham
Date published: 07/4/2015
5 / 5 stars
Overall rating: ★★★★★ based on 1 reviews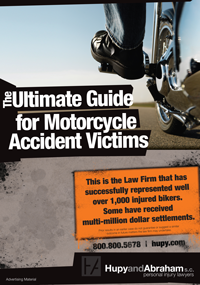 The Ultimate Guide for Motorcycle Accident Victims
Hurt in a Wisconsin, Illinois or Iowa motorcycle wreck? You need our ULTIMATE GUIDE FOR MOTORCYCLE ACCIDENT VICTIMS. Order your copy today for FREE.
Request Information +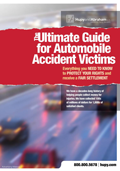 The Ultimate Guide for Automobile Accident Victims
This FREE guide contains everything you need to know to protect your rights and get fair treatment after a serious Wisconsin, Iowa, or Illinois auto accident.
Request Information +