Our Greendale, Wisconsin Personal Injury Law Firm
Greendale, Wisconsin
Call 24/7/365 - We'll Come to You!
Toll Free: 1-800-800-5678
Open Always - Chat Live With Us Now!
Walk-In Hours:
The Wisconsin, Illinois, and Iowa personal injury attorneys of Hupy and Abraham know what you're dealing with after being involved in an accident. Whether you've been hurt in a Milwaukee car crash or Illinois motorcycle accident, you are facing some serious challenges and we're here to help.
During the Great Depression, the federal government bought 3,400 acres of farmland south of Milwaukee to build a "greenbelt community." As one of only three greenbelt communities in the United States, the development of Greendale was intended to serve three purposes. First, it would be a new type of suburban plan that combined elements of city and country living. Second, it would provide decent housing at reasonable rates. Third, it would provide jobs.
In 2012, the town of Greendale was named a national historic landmark, and today it continues to be a desirable place to live. In the center of town is the business district, which is surrounded by the "greenbelt" of parks and farms. However, even in this carefully planned community, mistakes happen, accidents occur and people are hurt.
And Injured People Have the Right to Make Fair Recoveries
The damage done by an accident cannot be undone. However, you can plan to make it better. You can take action by contacting an experienced personal injury lawyer who will help you make a fair recovery for any injuries that you suffered due to someone else's negligence. This almost always means filing a claim with the responsible party's insurance company and it may also mean going to court.
You deserve compensation for the medical expenses, lost income, out-of-pocket costs, and pain and suffering that you have endured. We want to help you make this fair recovery. Please call us or contact via this website today to schedule a free consultation with us in our conveniently located Milwaukee office.
Milwaukee Office Directions
Greendale Driving Directions
Taking I 41/I 43 N/I894 E.
Using the right two lanes to take Exit 10A for I 43 N/I 94 W/US 41 W toward Milwaukee.
Merging onto I 43 N/I 94 W.
Taking Exit 310C for I794 E toward Lakefront.
Keeping right at the fork to continue onto on Exit 1D, following signs for Plankinton Avenue.
Following signs for Plankinton Ave and merging onto N Plankinton Avenue.
Turning right onto W Kilbourn Street.
Our office will be on your right: 111 E Kilbourn Ave., Suite #1100, Milwaukee, Wisconsin.
Testimonials by Hupy and Abraham Clients
Hupy and Abraham is the most pro-active, professional, caring and results-oriented personal injury law firm out there. They are absolutely the best advocates for motorcycle-related accidents, hands down! I highly recommend them, although their successful track record speaks for itself as indicated by the People's Choice Award they've earned for many consecutive years in Shepherd Express newspaper. In addition, Attorney Mike Hupy is a local Activist of renown, and generously gives back to the community in so many ways. For example he recently donated $1,000 for Veterans when he personally stopped in to support an event I hosted for Veterans Outreach of WI. He has been actively helping this wonderful non-profit organization continue its work with his donations. Rest assured that by choosing Hupy & Abraham, you'll be placing yourself in the most capable, professional and ethical hands around for your situation.
Written by: Neda Stevic
about Hupy and Abraham
Date published: 04/21/2015
5 / 5 stars
Overall rating: ★★★★★ based on 1 reviews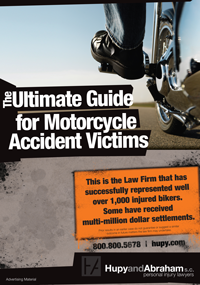 The Ultimate Guide for Motorcycle Accident Victims
Hurt in a Wisconsin, Illinois or Iowa motorcycle wreck? You need our ULTIMATE GUIDE FOR MOTORCYCLE ACCIDENT VICTIMS. Order your copy today for FREE.
Request Information +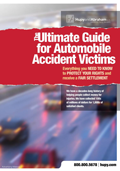 The Ultimate Guide for Automobile Accident Victims
This FREE guide contains everything you need to know to protect your rights and get fair treatment after a serious Wisconsin, Iowa, or Illinois auto accident.
Request Information +