Our Freeport, Illinois Personal Injury Law Firm
Freeport, Illinois
Call 24/7/365 - We'll Come to You!
Toll Free: 1-800-800-5678
Open Always - Chat Live With Us Now!
Walk-In Hours:
The Wisconsin, Illinois, and Iowa personal injury attorneys of Hupy and Abraham know what you're dealing with after being involved in an accident. Whether you've been hurt in a Milwaukee car crash or Illinois motorcycle accident, you are facing some serious challenges and we're here to help.
The city of Freeport, Illinois, effectively blends small-town living with big-city offerings. There is always something to do here, whether you are out enjoying nature on the Jane Addams Trail, going to a doctor's appointment at FHN, going to school, going to work, or going out to enjoy a restaurant or cultural event.
According to our city's website, most people have short commutes and know their neighbors. However, accidents can happen even on the shortest drives, and even on a friend's property a slip and fall accident or dog bite injury can occur.
And You Need to Know What to Do If You Are Hurt
After any kind of accident, you should seek immediate medical attention. Your doctors can diagnose your injuries and offer a treatment plan to manage your pain and help you recover.
The next step in your recovery should be to talk to an experienced Illinois personal injury lawyer. Our experienced lawyers can provide you with a free, no-obligation consultation about your rights. We will explain how we thoroughly investigate every personal injury case in our office, how we negotiate with insurance companies on behalf of our clients, why we would bring a case to trial, and what your unique recovery may be after a personal injury accident.
We are always available for you and you can set up a convenient meeting with us by reaching out to us via this website or by phone, then setting up a meeting at our Rockford office.
Rockford Office Directions
Freeport Driving Directions
Taking US 20 E toward Rockford.
Continuing onto I 39 N.
Using the left two lanes to take the Interstate 90 W /Interstate 39 N exit.
Merging on to I 39 N / I 90 W.
Taking the US 20 BUS / State St exit.
Keeping right at the fork, following signs for Rockford, and merging onto US 20 BUS W/ E State Street.
Turning right onto N Bell School Road.
Turning left onto Guilford Road.
Turning right onto N Perryville Road.
Turning left onto Rote Road.
Our office is located at 6952 Rote Road, Suite #200, Rockford, Illinois.
Leave feedback for us online!
Testimonials by Hupy and Abraham Clients
Hupy & Abraham, S. C. are very hardworking. They care about their clients and are honest. I would refer them to everyone I know.
Written by: Laura Lopez
about Hupy and Abraham
Date published: 07/4/2015
5 / 5 stars
Overall rating: ★★★★★ based on 1 reviews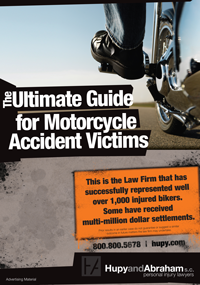 The Ultimate Guide for Motorcycle Accident Victims
Hurt in a Wisconsin, Illinois or Iowa motorcycle wreck? You need our ULTIMATE GUIDE FOR MOTORCYCLE ACCIDENT VICTIMS. Order your copy today for FREE.
Request Information +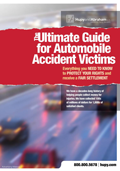 The Ultimate Guide for Automobile Accident Victims
This FREE guide contains everything you need to know to protect your rights and get fair treatment after a serious Wisconsin, Iowa, or Illinois auto accident.
Request Information +