Our Decatur, Illinois Personal Injury Law Firm
Decatur, Illinois
Call 24/7/365 - We'll Come to You!
Toll Free: 1-800-800-5678
Open Always - Chat Live With Us Now!
Walk-In Hours:
The Wisconsin, Illinois, and Iowa personal injury attorneys of Hupy and Abraham know what you're dealing with after being involved in an accident. Whether you've been hurt in a Milwaukee car crash or Illinois motorcycle accident, you are facing some serious challenges and we're here to help.
Decatur is ranked among the best cities in the country. It's been ranked as one of the Best Illinois Cities for Families, a Top 50 Best City for Global Trade, one of the Safest Cities in Illinois, and one of the best cities in the country for physicians to live. There are lots of exciting industrial and technological breakthroughs happening in Decatur and there are many beautiful parks, athletic activities, and entertainment options available for those who live in, work in, or visit this centrally located Illinois city.
While Decatur has been recognized as one of the safest cities in Illinois, there are still real and significant risks of being hurt here. You may be hurt in a slip and fall accident, a motorcycle crash, a car wreck, by nursing home abuse, by a defective pharmaceutical product, or in any other way because of someone else's negligent or intentional actions.
Protect Your Rights If You've Been Hurt
If you've been injured, then it is important to begin protecting your rights immediately. An experienced personal injury lawyer can help you negotiate with the right insurance company or go to court to protect your fair recovery of medical expenses, lost income, out-of-pocket costs, and compensation for your pain and suffering.
Our lawyers know what you have at stake and we do not want you to suffer financially because of someone else's negligence. Accordingly, we will work with you personally to help you get the unique recovery that you deserve for the injuries that you've suffered.
Leave feedback for us online!
Bloomington Office Directions
Decatur Driving Directions
Taking US-51 N.
US-51 N will turn into US-51 BUS N.
Turning left on E Washington Street.
Turning right at the first cross street onto N Main Street.
Our office will be on your right: 205 N Main St #302, Bloomington, IL.
Testimonials by Hupy and Abraham Clients
Hupy & Abraham, S. C. are very hardworking. They care about their clients and are honest. I would refer them to everyone I know.
Written by: Laura Lopez
about Hupy and Abraham
Date published: 07/4/2015
5 / 5 stars
Overall rating: ★★★★★ based on 1 reviews
To learn more, please contact us via this website or by phone at any time—24/7/365—to schedule your free consultation with a personal injury lawyer in our Bloomington office.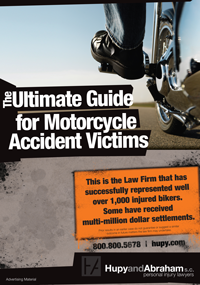 The Ultimate Guide for Motorcycle Accident Victims
Hurt in a Wisconsin, Illinois or Iowa motorcycle wreck? You need our ULTIMATE GUIDE FOR MOTORCYCLE ACCIDENT VICTIMS. Order your copy today for FREE.
Request Information +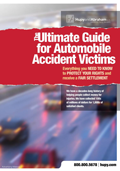 The Ultimate Guide for Automobile Accident Victims
This FREE guide contains everything you need to know to protect your rights and get fair treatment after a serious Wisconsin, Iowa, or Illinois auto accident.
Request Information +