Our Beloit, Wisconsin Personal Injury Law Firm
Beloit, Wisconsin
Call 24/7/365 - We'll Come to You!
Toll Free: 1-800-800-5678
Open Always - Chat Live With Us Now!
Walk-In Hours:
The Wisconsin, Illinois, and Iowa personal injury attorneys of Hupy and Abraham know what you're dealing with after being involved in an accident. Whether you've been hurt in a Milwaukee car crash or Illinois motorcycle accident, you are facing some serious challenges and we're here to help.
Beloit bills itself as the "Gateway to Wisconsin" and welcomes more than one million tourists to Wisconsin each year. Some people are just passing through this southern Wisconsin city. Others stay a short time to enjoy the world-class riverfront or charming downtown, and still others make Beloit their home by attending Beloit College, residing in a historic neighborhood, or finding the right home in another part of town.
Whether you are in Beloit for just minutes or for years, you deserve to be safe while you are here. Unfortunately, however, Beloit is not immune to the accidents that can happen anywhere. In a matter of seconds, you can be injured by someone else's negligence.
Then the Next Step Is Up to You
If you've been hurt in a Beloit accident then you are faced with a decision. You can decide whether you want to pursue a fair recovery from the person who caused your accident injury, or you can decide to incur the costs yourself. If you decide to pursue damages from the person who caused your motorcycle crash, car wreck, truck accident, slip and fall injury, negligent security injury, dog bite injury, or other type of injury, then you will have to take action.
You can make sure that your rights are protected and that you take the right actions to protect your recovery by contacting an experienced personal injury lawyer. Our personal injury attorneys know how to thoroughly investigate personal injury claims and advocate for our clients full and fair recoveries during insurance negotiations and in court.
We want to help you make the decisions that are in your best interest. Please contact us at your convenience to schedule a free, no-obligation consultation in our Madison office.
Madison Office Directions
Beloit Driving Directions
Get on I-43 N.
Take Exit 1B to merge onto I 39 N/ I 90 W toward Madison.
Use the left lane to take Exit 142A to US 12 W / US 18 W.
Take Exit 259 toward Todd Drive.
Turn left on Todd Drive.
Turn right on W Beltline Frontage Road.
Our office will be on your left: 3001 W Beltline Hwy, Suite 204, Madison, WI.
Testimonials by Hupy and Abraham Clients
Hupy and Abrahams law firm is wonderful! They actually mean business when it comes to your case and they care about others as proven in their don't text & drive campaign. They promote motorcycle awareness and are actively involved w many community events and overall they're simply good people!
Written by: Ruthy Boehm
about Hupy and Abraham
Date published: 07/4/2015
5 / 5 stars
Overall rating: ★★★★★ based on 1 reviews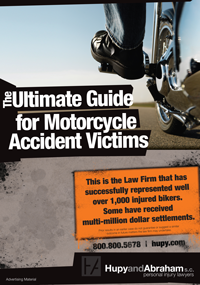 The Ultimate Guide for Motorcycle Accident Victims
Hurt in a Wisconsin, Illinois or Iowa motorcycle wreck? You need our ULTIMATE GUIDE FOR MOTORCYCLE ACCIDENT VICTIMS. Order your copy today for FREE.
Request Information +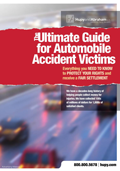 The Ultimate Guide for Automobile Accident Victims
This FREE guide contains everything you need to know to protect your rights and get fair treatment after a serious Wisconsin, Iowa, or Illinois auto accident.
Request Information +