Personal Injury Attorneys Serving Pella, Iowa
Pella, Iowa
Call 24/7/365 - We'll Come to You!
Toll Free: 1-800-800-5678
Open Always - Chat Live With Us Now!
Walk-In Hours:
The Wisconsin, Illinois, and Iowa personal injury attorneys of Hupy and Abraham know what you're dealing with after being involved in an accident. Whether you've been hurt in a Milwaukee car crash or Illinois motorcycle accident, you are facing some serious challenges and we're here to help.
More than 10,000 people call Pella, Iowa home. Pella is a small city filled with Dutch architecture that reflects the heritage of many residents, lots of fun activities, and diverse employment opportunities in manufacturing, education, healthcare, agriculture, tourism, and other industries. For example, here in Pella, you will find Central College and Pella Regional Health Center.
Pella is a friendly community with active residents who try to help one another. However, sometimes unexpected accidents happen.
Be Prepared for Pella Personal Injury Accidents
When someone else's negligence results in your injury, you are going to need to take action to protect your rights and your potential recovery. The person who caused your pedestrian accident by Central College, your motor vehicle crash by Pella Regional Medical Center, or another type of accident anywhere in Pella may be your friend, colleague, or neighbor.
While it can be difficult to consider pursuing a recovery from someone whom you know, it is important that you do so. Your financial recovery will likely come from that person's insurance company rather than that person's bank account. A legal recovery will not necessarily have a negative impact on your relationship.
You shouldn't be left paying for your medical bills or suffering because of your lost income, out-of-pocket costs, physical pain, or emotional distress. Instead, we encourage you to let our experienced personal injury lawyers help you make a fair recovery.
We would be pleased to provide you with a free consultation at your convenience. If you have a claim and you decide to hire us, then you will receive personal attention from lawyers who go above and beyond the call of duty from the time you first contact us until your case is resolved.
Please call us today to schedule your meeting and then, at the time of your meeting, please join us in our West Des Moines office.
Des Moines Office Directions
Pella Driving Directions
Heading west on Washington St toward Broadway St.
Turning right to merge onto IA 163 W toward Des Moines.
Merging onto IA 163 W.
Using the right lane to take the Interstate 235 W ramp.
Merging onto I 235 W.
Keeping left to stay on I 235 W.
Taking Exit 1A for 50th St toward W Des Moines.
Turning right onto 50th St.
Turning left onto Westown Pkwy.
Our office is located at 6600 Westown Pkwy Suite 270, West Des Moines, Iowa.
Testimonials by Hupy and Abraham Clients
I've promoted motorcycle awareness while working with Hupy and Abraham personal injury law firm for almost a year now, I have nothing but great things to say about this firm. Very friendly and professional staff. Wonderful firm to work with. An array of positive feedback from the Hupy and Abraham clientele proves a job well done from this firm.
Written by: Sorya Sunny
about Hupy and Abraham
Date published: 07/4/2015
5 / 5 stars
Overall rating: ★★★★★ based on 1 reviews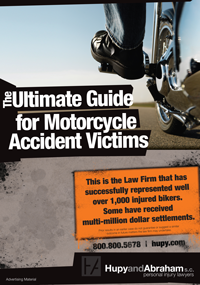 The Ultimate Guide for Motorcycle Accident Victims
Hurt in a Wisconsin, Illinois or Iowa motorcycle wreck? You need our ULTIMATE GUIDE FOR MOTORCYCLE ACCIDENT VICTIMS. Order your copy today for FREE.
Request Information +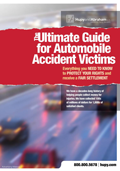 The Ultimate Guide for Automobile Accident Victims
This FREE guide contains everything you need to know to protect your rights and get fair treatment after a serious Wisconsin, Iowa, or Illinois auto accident.
Request Information +