Personal Injury Attorneys Serving Pekin, Illinois
Pekin, Illinois
Call 24/7/365 - We'll Come to You!
Phone: 1-800-800-5678
Open Always - Chat Live With Us Now!
Walk-In Hours:
The Wisconsin, Illinois, and Iowa personal injury attorneys of Hupy and Abraham know what you're dealing with after being involved in an accident. Whether you've been hurt in a Milwaukee car crash or Illinois motorcycle accident, you are facing some serious challenges and we're here to help.
A 'gateway' community on the Illinois River Road National Scenic Byway, Pekin, Illinois is a full-service city with many attractions. If you like golf, Lick Creek Golf Course has been nationally recognized as one of America's best public courses. And visitors each year enjoy Pekin's Winter Wonderful, its annual Marigold Festival, and the World's Greatest Sundial.
When You Suffer Injuries in Pekin
If you're traveling through Pekin or you live or work there, it's possible to suffer injuries in an unexpected accident. If this happens, you may be able to recover for past and future medical expenses, lost income, out-of-pocket costs, and pain and suffering. However, that recovery will not be automatic. You will need to prove that a negligent party owed you a duty of care, breached that duty of care, and caused your injury. This can require extensive investigation, negotiating, and a detailed knowledge of Illinois law.
Our Illinois personal injury lawyers can help you. We have the necessary experience, knowledge, and skill to ensure our clients are treated fairly, and we also have the drive to go above and beyond the call of duty for each and every client.
It won't cost you anything upfront to work with us. Instead, we are paid on a contingency fee basis, which means we are only paid if your claim is successful. To learn more about how we can help you after a personal injury accident, please contact us via this website or by phone at any time to schedule a free, no-obligation consultation. Then, at the time of our meeting, you can join us in our Bloomington office.
Bloomington Office Directions
Pekin Driving Directions
Taking N 8th St to IL-29 N.
Turning right to merge onto I-474 E toward Bloomington.
Taking I-474 E and using the right two lanes to exit onto I-74 E toward Indianapolis.
Merging onto I 74.
Taking I 74 to Exit 125 for US 150 toward Mitsubishi/Motorway.
Turning right on US 150 E (signs for Mitsubishi Motorway).
Turning right at the first cross street onto Mabel Rd.
Continuing onto White Oak Rd.
Turning left onto W Locust St.
Turning right onto N Center St/N Madison St, continuing to follow N Madison St.
Turning left onto W Washington St.
Turning left at the second cross street onto N Main St.
Our office will be in your right: 205 N Main St #302, Bloomington, Illinois.
Testimonials by Hupy and Abraham Clients
Hupy & Abraham, S. C. are very hardworking. They care about their clients and are honest. I would refer them to everyone I know.
Written by: Laura Lopez
about Hupy and Abraham
Date published: 07/4/2015
5 / 5 stars
Overall rating: ★★★★★ based on 1 reviews
To learn more, please contact us via this website or by phone at any time—24/7/365—to schedule your free consultation with a personal injury lawyer in our Bloomington office.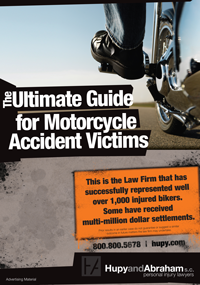 The Ultimate Guide for Motorcycle Accident Victims
Hurt in a Wisconsin, Illinois or Iowa motorcycle wreck? You need our ULTIMATE GUIDE FOR MOTORCYCLE ACCIDENT VICTIMS. Order your copy today for FREE.
Request Information +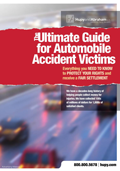 The Ultimate Guide for Automobile Accident Victims
This FREE guide contains everything you need to know to protect your rights and get fair treatment after a serious Wisconsin, Iowa, or Illinois auto accident.
Request Information +