Our North Chicago, Illinois Personal Injury Law Firm
North Chicago, Illinois
Call 24/7/365 - We'll Come to You!
Toll Free: 1-800-800-5678
Open Always - Chat Live With Us Now!
Walk-In Hours:
The Wisconsin, Illinois, and Iowa personal injury attorneys of Hupy and Abraham know what you're dealing with after being involved in an accident. Whether you've been hurt in a Milwaukee car crash or Illinois motorcycle accident, you are facing some serious challenges and we're here to help.
North Chicago is more than just a suburb of Chicago. It is here, in North Chicago, where many people choose to raise their families. It is here where people work at the Great Lakes Naval Training Center, AbbVie, Abbott Laboratories, and other important businesses. It is here where people attend Rosalind Franklin University of Medicine and Science and it is here where people enjoy recreational activities.
It Is Also Here Where People Get Hurt
People in North Chicago, like people throughout the country, are at risk of being injured in all types of accidents. Motor vehicle crashes, dangerous pharmaceutical products, the lack of adequate security, aggressive dogs, and other risks are confronted by people every single day and sometimes lead to serious injuries.
If you are one of the people who has been hurt by someone else's negligence in North Chicago then you need to take action to protect your fair recovery. However, you don't have to take this action alone. Instead, our experienced Illinois personal injury lawyers are ready and waiting to help you. We want to make sure that you recover damages for all of your medical costs, lost income, out-of-pocket expenses, physical pain, and emotional suffering. We will do this by thoroughly investigating what happened to you and negotiating your settlement with the insurance company or taking your case to court. At each stage of the process, you will remain in control of your claim and you will be fully informed about what is happening.
To learn more, please schedule a free and confidential meeting with us at your convenience. We can be reached via this website or by phone at any time—24/7/365—and we welcome your visit to our Gurnee office.
Gurnee Office Directions
North Chicago Driving Directions
Taking US-41 N to the exit for IL-120 W/ Belvidere Road.
Follow Belvidere Road.
Turning right on S Hunt Club Road.
Turning right on W Washington Street.
Our office will be on your right, 6475 Washington Street #105, Gurnee, Illinois.

Leave feedback for us online!
Testimonials by Hupy and Abraham Clients
I was overwhelmed after getting hit by a teenager, my Road King was totaled and I went through multiple surgeries and medical treatments that continue even 5 years later. Much of the burden and anxiety of going through an accident disappeared after signing up. I was so glad they were in my corner! Thank you Mike Hupy, Jason Abraham and attorney Vito for helping me through this process! I highly recommend this firm for anyone involved in any type of accident.
Written by: Linda Jo
about Hupy and Abraham
Date published: 07/4/2015
5 / 5 stars
Overall rating: ★★★★★ based on 1 reviews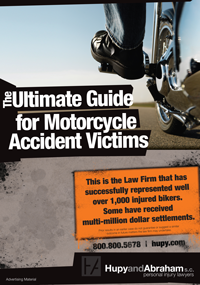 The Ultimate Guide for Motorcycle Accident Victims
Hurt in a Wisconsin, Illinois or Iowa motorcycle wreck? You need our ULTIMATE GUIDE FOR MOTORCYCLE ACCIDENT VICTIMS. Order your copy today for FREE.
Request Information +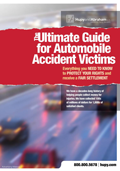 The Ultimate Guide for Automobile Accident Victims
This FREE guide contains everything you need to know to protect your rights and get fair treatment after a serious Wisconsin, Iowa, or Illinois auto accident.
Request Information +