Personal Injury Attorneys Serving Marshalltown, Iowa
Marshalltown, Iowa
Call 24/7/365 - We'll Come to You!
Toll Free: 1-800-800-5678
Open Always - Chat Live With Us Now!
Walk-In Hours:
The Wisconsin, Illinois, and Iowa personal injury attorneys of Hupy and Abraham know what you're dealing with after being involved in an accident. Whether you've been hurt in a Milwaukee car crash or Illinois motorcycle accident, you are facing some serious challenges and we're here to help.
Marshalltown, Iowa is located in the middle of the state and according to Mayor Lowrance, it is "in the middle of all things good." Marshalltown is a proud community that encourages volunteerism, has many athletic, artistic, and recreational activities, and has a diverse and friendly business community.
Marshalltown Residents, Workers, and Visitors Share in the City's Greatness and its Risks
While there is a lot to enjoy in Marshalltown, one person's negligence can quickly cause an accident and result in another person's injury. Whether it's a crash on Iowa Highway 14, negligence or abuse at a Marshalltown nursing home, or an injury on someone else's property, the person who is injured may have the right to pursue a fair recovery.
The recovery from an Iowa personal injury accident may include compensation for past and future medical expenses, lost income, out-of-pocket costs, physical pain, emotional suffering, and other damages. However, this recovery is not guaranteed. Instead, the person who is hurt must typically pursue a legal recovery from the appropriate insurance company or in court.
This can be complicated, but it is not something that you have to do alone. If you've been hurt in a Marshalltown accident, then our experienced Cedar Rapids personal injury lawyers may be able to help you. We know how to investigate accidents, prepare arguments, negotiate with insurance companies, and make compelling cases in court.
For a free consultation about how we may be able to help you after a Marshalltown accident, please contact us via this website, call, or text us at any time. We look forward to welcoming you at our Cedar Rapids office.
Cedar Rapids Office Directions
Marshalltown Driving Directions
Heading south on N 3rd Ave toward E Main St.
Turning left at the first cross street onto E Main St.
Turning right onto S 18th Ave.
Turning left to merge onto US 30 E.
Merging onto US 30 E.
Taking Exit 252C to merge onto I 380 N/IA 27 N toward Cedar Rapids.
Taking Exit 19A toward US 151 Business/5th Ave SW/Diagonal Dr/Downtown.
Merge onto 3rd St SW.
Turn right onto 3rd Ave SW.
Continuing onto the 3rd Ave Bridge.
Continuing onto 3rd Ave SE.
Our office will be on your left: 222 3rd Ave SE, Suite 299-7, Cedar Rapids, Iowa.
Testimonials by Hupy and Abraham Clients
I have worked with Hupy and Abraham a variety of times promoting motorcycle safety and awareness, along with the Dont Text and Drive campaign. They surpass any other law firm in customer care and satisfaction!
Written by: Heather Stern
about Hupy and Abraham
Date published: 07/4/2015
5 / 5 stars
Overall rating: ★★★★★ based on 1 reviews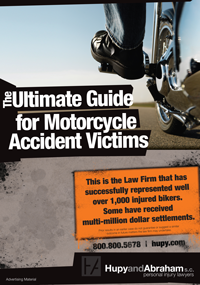 The Ultimate Guide for Motorcycle Accident Victims
Hurt in a Wisconsin, Illinois or Iowa motorcycle wreck? You need our ULTIMATE GUIDE FOR MOTORCYCLE ACCIDENT VICTIMS. Order your copy today for FREE.
Request Information +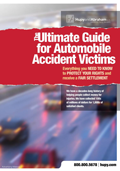 The Ultimate Guide for Automobile Accident Victims
This FREE guide contains everything you need to know to protect your rights and get fair treatment after a serious Wisconsin, Iowa, or Illinois auto accident.
Request Information +