Personal Injury Attorneys Serving Marion, Iowa
Marion, Iowa
Call 24/7/365 - We'll Come to You!
Toll Free: 1-800-800-5678
Open Always - Chat Live With Us Now!
Walk-In Hours:
The Wisconsin, Illinois, and Iowa personal injury attorneys of Hupy and Abraham know what you're dealing with after being involved in an accident. Whether you've been hurt in a Milwaukee car crash or Illinois motorcycle accident, you are facing some serious challenges and we're here to help.
Marion, Iowa, is one of the 10 Best Towns for Families, according to Family Circle Magazine. It is one of the fastest growing cities with one of the youngest populations in the Midwest. Marion seeks to balance charm and a small-town environment with forward-thinking ideas that make it an ideal place to raise a family or to grow a business. There is always a lot going on within the City of Marion and Cedar Rapids is just minutes away.
With So Much Going on, Marion Personal Injury Accidents Do Happen
Visitors, residents, and workers all share common risks in Marion. One person's negligence can cause another person's serious injury. This can happen in a number of ways including, but not limited to, motor vehicle crashes, slip and falls, dog bites, negligent security incidents, or even nursing home abuse or neglect.
When one person's negligence causes another person's injury, then the injured party typically has the right to pursue a personal injury case. However, in order to be successful in that claim, the injured party must have evidence and persuasive arguments to convince the insurance company to settle or the court to find in the injured party's favor.
Our experienced Cedar Rapids personal injury lawyers know how to investigate claims and we work tirelessly on behalf of our clients. When you hire us, we will get to know you to better understand just how much your recovery means to you. You will never be just a file a number to the legal team of Hupy & Abraham.
To learn more about how we can help you get the full and fair recovery that you deserve, we encourage you to contact us at any time—24/7/365—to schedule a free, no-obligation consultation with us at our Cedar Rapids office.
Cedar Rapids Office Directions
Marion Driving Directions
Heading north on 12th St toward 7th Ave.
Turning left at the first cross street onto 7th Ave.
At the traffic circle, taking the 2nd exit to stay on 7th Ave.
Continue onto Marion Blvd.
Continue onto 1st Ave NE.
Turning left onto 3rd St SE.
Turning right at the second cross street onto 3rd Ave SE.
Our office will be on your right, 222 3rd Ave SE, Suite 299-7, Cedar Rapids, Iowa.
Testimonials by Hupy and Abraham Clients
I have worked with Hupy and Abraham a variety of times promoting motorcycle safety and awareness, along with the Dont Text and Drive campaign. They surpass any other law firm in customer care and satisfaction!
Written by: Heather Stern
about Hupy and Abraham
Date published: 07/4/2015
5 / 5 stars
Overall rating: ★★★★★ based on 1 reviews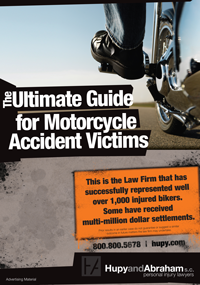 The Ultimate Guide for Motorcycle Accident Victims
Hurt in a Wisconsin, Illinois or Iowa motorcycle wreck? You need our ULTIMATE GUIDE FOR MOTORCYCLE ACCIDENT VICTIMS. Order your copy today for FREE.
Request Information +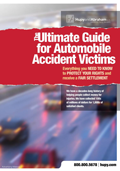 The Ultimate Guide for Automobile Accident Victims
This FREE guide contains everything you need to know to protect your rights and get fair treatment after a serious Wisconsin, Iowa, or Illinois auto accident.
Request Information +