Personal Injury Attorneys Serving Machesney Park, Illinois
Machesney Park, Illinois
Call 24/7/365 - We'll Come to You!
Toll Free: 1-800-800-5678
Open Always - Chat Live With Us Now!
Walk-In Hours:
The Wisconsin, Illinois, and Iowa personal injury attorneys of Hupy and Abraham know what you're dealing with after being involved in an accident. Whether you've been hurt in a Milwaukee car crash or Illinois motorcycle accident, you are facing some serious challenges and we're here to help.
On the official Machesney Park, Illinois website, the village is described as a place where people greet each other by name and where visitors receive a warm welcome. Approximately 23,500 people live in Machesney Park and the village is experiencing significant growth—both in residents and commercial businesses.
While Machesney Park is a great place to live, work, or enjoy outdoor recreational activities, it is still possible to be accidentally injured by someone who knows your name or who has extended an enthusiastic welcome to you.
Take Action If You're Hurt in a Machesney Park Accident
Whether you are riding your bike, driving your car, taking a walk, or visiting someone else's property, you are at risk of being hurt. You depend on those around you to exercise reasonable care in preventing accidents and if that doesn't happen, then you may end up being the victim of a personal injury accident.
This can be overwhelming. You may not know what to do first. However, there is help available. Our experienced Rockford personal injury accident lawyers will aggressively investigate accidents, negotiate with insurance companies, and bring cases to court if necessary. We will handle all of the day-to-day stress of your personal injury case so that you can concentrate on your physical recovery.
We understand what you are going through and we know that it can be hard to know what actions to take. Therefore, we encourage you to contact us today to schedule a free, no-obligation consultation. Let's sit down and talk about what happened to you and about how we can help you. If you decide to hire us then you will not owe us any legal fees until your claim has settled or resolved in court.
To learn more, please call or text us today to set up your free meeting at our Rockford office.
Rockford Office Directions
Machesney Park Driving Directions
Heading east on Roosevelt Rd toward Cameo Dr.
Turning right onto N Alpine Rd.
Turning left onto Harlem Rd.
Turning right onto N Perryville Rd.
Continuing straight to stay on N Perryville Rd.
Turning right onto Rote Rd.
You will arrive at our office: 6952 Rote Rd #200, Rockford, Illinois.
Testimonials by Hupy and Abraham Clients
Hupy & Abraham, S. C. are very hardworking. They care about their clients and are honest. I would refer them to everyone I know.
Written by: Laura Lopez
about Hupy and Abraham
Date published: 07/4/2015
5 / 5 stars
Overall rating: ★★★★★ based on 1 reviews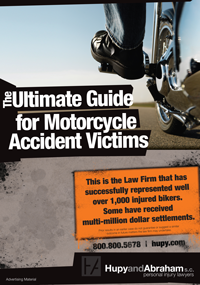 The Ultimate Guide for Motorcycle Accident Victims
Hurt in a Wisconsin, Illinois or Iowa motorcycle wreck? You need our ULTIMATE GUIDE FOR MOTORCYCLE ACCIDENT VICTIMS. Order your copy today for FREE.
Request Information +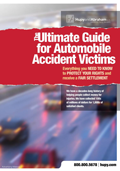 The Ultimate Guide for Automobile Accident Victims
This FREE guide contains everything you need to know to protect your rights and get fair treatment after a serious Wisconsin, Iowa, or Illinois auto accident.
Request Information +