Personal Injury Attorneys Serving Loves Park, Illinois
Loves Park, Illinois
Call 24/7/365 - We'll Come to You!
Toll Free: 1-800-800-5678
Open Always - Chat Live With Us Now!
Walk-In Hours:
The Wisconsin, Illinois, and Iowa personal injury attorneys of Hupy and Abraham know what you're dealing with after being involved in an accident. Whether you've been hurt in a Milwaukee car crash or Illinois motorcycle accident, you are facing some serious challenges and we're here to help.
The city of Loves Park, Illinois has something for everyone. It has different housing options for residents, different employment options for workers, and lots of recreational activities for everybody. Whether you are here to live, work, camp, boat, fish, or attend a minor league baseball game, there is always something to do in this Northern Illinois city.
Accidents Happen Even in Loves Park—The City With a Heart
Loves Park identifies itself as "The City With a Heart" and prides itself on being a close-knit community. However, accidents happen—even in this type of community where neighbors look out for neighbors. A driver may be negligent, for example, and cause a car, truck, or motorcycle crash. A property owner may be negligent and cause a slip and fall, dog bite, or negligent security incident. A nursing home may be negligent and cause serious injury to a resident.
After any of these types of incidents, or after any other type of personal injury accident, it is important to know your rights. You may be entitled to make a legal recovery for the damages that you've suffered due to someone else's negligence. This could include your past and future medical costs, lost income, out-of-pocket expenses, physical pain, emotional suffering, and other damages.
Our experienced Rockford personal injury lawyers want you to get the fair recovery that you deserve. To that end, we will get to know you and we will take the time to understand just how your injuries are affecting your life so that we can zealously advocate for your fair and full recovery.
To learn more about how we can help you during this difficult time, please text or call us any time to set up a free, no-obligation consultation at our Rockford office.
Rockford Office Directions
Loves Park Driving Directions
Heading south on N 2nd St toward Pennsylvania Ave.
Turning left onto E Riverside Blvd.
Turning right onto N Perryville Rd.
Turning right onto Rote Rd.
You will arrive at our office: 6952 Rote Rd #200, Rockford, Illinois.

Testimonials by Hupy and Abraham Clients
Hupy & Abraham, S. C. are very hardworking. They care about their clients and are honest. I would refer them to everyone I know.
Written by: Laura Lopez
about Hupy and Abraham
Date published: 07/4/2015
5 / 5 stars
Overall rating: ★★★★★ based on 1 reviews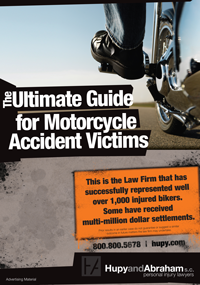 The Ultimate Guide for Motorcycle Accident Victims
Hurt in a Wisconsin, Illinois or Iowa motorcycle wreck? You need our ULTIMATE GUIDE FOR MOTORCYCLE ACCIDENT VICTIMS. Order your copy today for FREE.
Request Information +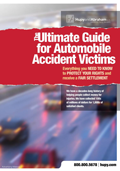 The Ultimate Guide for Automobile Accident Victims
This FREE guide contains everything you need to know to protect your rights and get fair treatment after a serious Wisconsin, Iowa, or Illinois auto accident.
Request Information +